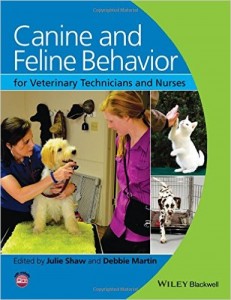 Thanks to Wiley-Blackwell for offering me this textbook in exchange for an honest review.
This comprehensive textbook contains 9 chapters and 3 appendices, and is geared towards the veterinary technician, rather than the veterinarian. Oftentimes, it's the technician that assesses the patient before the doctor enters the room, and can be indispensable in offering guidance and advice to weary pet owners. The chapters read as follows:
The role of the veterinary technician in animal behavior
canine behavior and development
feline behavior and development
the human-animal bond
communication and connecting the animal behavior team
learning and behavior modification
problem prevention
specific behavior modification techniques and practical application for behavior disorders
introductory neurophysiology and psychopharmacology
As you can see, there is a chapter for everything, with the final one discussing medications as a last resort. The chapters can be read progressively, or referred to here and there to educate a client on a particular issue. The focus here is to understand the patient and correct bad habits in a way that the pet will accept, withour cruelty or harsh discipline. The book advises that shock collars or physical punishment is not akin to learning, and so is not the best method to use.
Also very helpful is the chapter about communication and connecting the behavior team. Occasionally there will be that animal that will not resolve its behavior, no matter how hard the owner tries. If euthanasia is being considered, there will be many different ways the owner may react, and the book goes through the stages of grief and how to help the owner through this hard time.
The book is accompanied by many color photos, graphs, tables, and diagrams illustrating the  text and adding another level of understanding. Here is an example of a schematic that gives a great deal of information at a glance: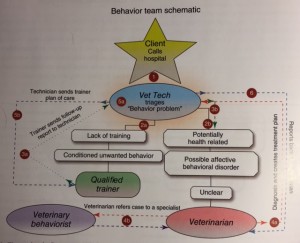 Flowcharts are usually easy to read, and this one also has notes at the bottom that correlate with the numbers in the red circles. Both beginning and experienced behavior techs will appreciate what this book has to offer–and their patients will too!
The appendices (found after chapter 9) are broken down into Forms and Questionnaires, Training Exercises, and Samples and Letters.  There is also a companion website  that offers handouts, review questions, and additional images.
There is a lot packed into this text, and technicians will be better able to assist the veterinarian after becoming familiar with the material covered. Even if the technician is not part of the full time behavioral staff, they will be able to educate the client thoroughly and become more adept at handling patients. Wiley has created another indispensable book for the veterinary technician! You can pick up your copy [easyazon_link asin="0813813182″ locale="US" new_window="default" nofollow="default" tag="gimmethatbook-20″ add_to_cart="yes" cloaking="default" localization="yes" popups="yes"]here[/easyazon_link].