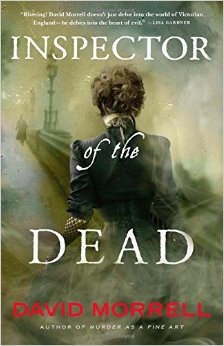 Many thanks to NetGalley for providing this Advance Readers' Copy  for review.
The year is 1855. The Crimean War is raging. The incompetence of British commanders causes the fall of the English government. The Empire teeters. Amid this crisis comes opium-eater Thomas De Quincey, one of the most notorious and brilliant personalities of Victorian England. Along with his irrepressible daughter, Emily, and their Scotland Yard companions, Ryan and Becker, De Quincey finds himself confronted by an adversary who threatens the heart of the nation.

This killer targets members of the upper echelons of British society, leaving with each corpse the name of someone who previously attempted to kill Queen Victoria. The evidence indicates that the ultimate victim will be Victoria herself.
Once again author David Morrell has produced a winner. INSPECTOR OF THE DEAD has the wonderfully grim De Quincey as a main character,  wintry Victorian England as a backdrop, and a plot full of double and triple crosses that will delight and confound the reader.
I'll admit, this book started off slow. Truly slow. Morrell's writing style took a bit to get used to–but as I progressed I noticed his sly use of sarcasm in the dialogue, the fatalistic attitude of De Quincey (which endeared me to the character quickly; no overly macho man here), and the on-point description of gaslight England, down to the terrors lurking in the Seven Dials district.
More on the style of writing: Morrell uses the third party omniscient narrator for the bulk of the book–but includes a first person narrative under the guise of  De Quincey's daughter Emily's journal. There are also flashbacks contributing to the unsettling way the story is told. As you get drawn into the plot, it gets easier to roll with the narration switches and flashbacks.
The plot is taken from true events and embellished. Wherever he goes, De Quincey is simultaneously self deprecating and larger than life, openly drinking from his omnipresent laudanum bottle and quoting Emmanuel Kant. Emily keeps him quietly in check most of the time, but there are instances where the Opium-Eater runs off at the mouth, confounding his audience. Some of the best dialogue came from De Quincey's talks with Lord Palmerston, the British statesman who becomes Prime Minister. Morrell also captures the class differences quite well, contrasting the stiff upper lips of Mayfair with the street urchins of the London slums.
INSPECTOR OF THE DEAD was such a joy, it made me want to read the first De Quincey book, [easyazon_link asin="0316216798″ locale="US" new_window="default" nofollow="default" tag="gimmethatbook-20″ add_to_cart="yes" cloaking="default" localization="yes" popups="yes"]MURDER AS A FINE ART[/easyazon_link]. When I finally get to it, I'm sure I'll be delighted.
Want your own copy of INSPECTOR? You can pick it up [easyazon_link asin="0316323934″ locale="US" new_window="default" nofollow="default" tag="gimmethatbook-20″ add_to_cart="yes" cloaking="default" localization="yes" popups="yes"]here[/easyazon_link].