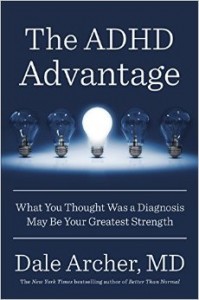 Why ADHD could be the key to your success

For decades physicians delivered the diagnosis of ADHD to patients as bad news and warned them about a lifelong struggle of managing symptoms. But The ADHD Advantage explodes this outlook, showing that some of the most highly successful entrepreneurs, leaders, and entertainers have reached the pinnacle of success not in spite of their ADHD but because of it.

Although the ADHD stereotype is someone who can't sit still, in reality people with ADHD are endlessly curious, often adventurous, willing to take smart risks, and unusually resilient. They are creative, visionary, and entrepreneurial. Sharing the stories of highly successful people with ADHD, Dr. Archer offers a vitally important and inspiring new way to recognize ADHD traits in oneself or in one's loved ones, and then leverage them to great advantage—without drugs.

As someone who not only has ADHD himself but also has never used medication to treat it, Dr. Archer understands the condition from a unique standpoint. Armed with new science and research, he hopes to generate public interest and even debate with his positive message as he guides the millions of people with ADHD worldwide toward a whole new appreciation of their many strengths and full innate potential.
As a reviewer of multiple ADHD books, I was eager to see what this author had to say.
Unfortunately, I was not impressed. The book seems to be padded with lots of stories about those "lucky" enough to have ADHD and had the ability to spend time traveling around the world and failing at multiple jobs before finding the "right" place for them. Not everyone has the money or the support to do this. That is not how the average person with ADHD lives. Moreover, that solution could have been illustrated with a few stories, not over and over again in each chapter. At some point, it goes from inspiring to overkill.
Archer is a big proponent of no drugs for ADHD'ers. I agree that children should be evaluated carefully and not just have pills thrown at them, but the idea of everyone not needing medication is absurd. The author has a series of questions that determine where you are on the ADHD scale, and  claims that anyone that is an 8 or lower (out of 10) does not need medication. I feel that would make for a lot of frustrated people.
He also postulates that ADHD'ers are resilient and can deal with failure well, because their constant failure makes them stronger. I can also tell you that is patently untrue, as I live with an ADHD'er and his failures just make him depressed.
If you are a person with lots of money and a personal assistant to take care of the minutiae of daily living, then you will agree with what Archer has to say.
Otherwise–pass this one up, take your meds, and get on with your life.
Want your own copy? You can pick it up [easyazon_link identifier="1594633517″ locale="US" nw="y" tag="gimmethatbook-20″]here[/easyazon_link].