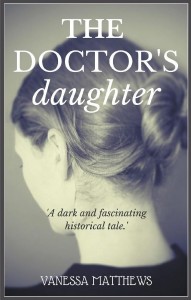 A prominent psychiatrist's daughter realises insanity can be found much closer to home when she unlocks secrets from the past that threaten to destroy her future.

It's 1927, women have the right to vote and morals are slackening, but 23 year old Marta Rosenblit is not a typical woman of her time. She has little connection with her elder sisters, her mother has been detained in an asylum since Marta was born and she has spent her life being shaped as her father Arnold's protégé. She is lost, unsure of who she is and who she wants to be. Primarily set in Vienna, this dark tale follows her journey of self-discovery as she tries to step out of her father's shadow and find her identity in a man's world. Her father's friend Dr Leopold Kaposi is keen to help her make her name, but his interest is not purely professional and his motivations pose greater risks than she could possibly know. Marta's chance encounter in a café leads to a new friendship with young medical graduate Elise Saloman, but it soon turns out that Elise has some secrets of her own. When Marta's shock discovery about her family story coincides with her mother's apparent suicide, Marta can't take any more. None of the people she has grown to love and trust are who they seem. Her professional plans unravel, her relationships are in tatters and her sanity is on the line – and one person is behind it all.
Thanks to the author for offering me this book for review!
Prepare to be immersed in a dark world of offbeat people, misogyny and emotion. Marta is a tortured soul struggling to become her own woman and out from under her father's thumb. Matthews paints an eerie image of a sheltered and awkward heroine, someone the reader can cheer for and support.
As she hesitantly takes steps toward independence, Marta must learn about love, sex, trust, and the truth, no matter how much this knowledge hurts her. Her circumstances seem to sweep her along, regardless of her wishes, as Leopold initiates her in the way of the world — that world being 1920's Vienna, where most women have yet to find their own voice. Marta's confusion and vulnerability is described flawlessly, as well as her demons lurking within.
As her relationship with Leopold mutates into a joyless union, Marta finds a way to visit her mother (who has been locked away in an asylum since Marta's birth). The scenes with her mother are heartrending and melancholic, yet full of love. Marta's confusion about the woman she has thought about all her life looms large as she confronts the allegations made by Leopold, and there, her questions begin. Soon after, the plot twists start and the action picks up a great deal. The "secrets from the past" alluded to in the book's blurb are grim and shocking–Marta has decisions to make and we see her maturing and taking control of her life.
Despite the book's dreary countenance, THE DOCTOR'S DAUGHTER was riveting. The attitudes of the times were described perfectly, and the characters were believably evil and self centered. The character of Marta personifies someone who has inner demons, borne all her life on her own. Her sisters shun her and she is motherless, hence she finds solitude in the dark places of her mind, and with physical solutions that enhance her somber nature.
I found this book evocative and captivating. Want your own copy? You can pick it up [easyazon_link identifier="B00Y165LRQ" locale="US" nw="y" tag="gimmethatbook-20″]here[/easyazon_link].