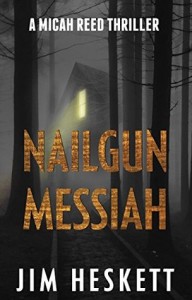 Ticking off the wrong people sends Micah scrambling to flee Denver. But his hideout choice may not supply the sanctuary he craves. In the little Colorado mountain community of Nederland, he finds his sister, thinking he can disappear into obscurity with her. But she's living in some kind of commune with a domineering and cruel woman named Lilah.
And Lilah doesn't trust Micah from the moment he appears on the scene.
Soon enough, Micah becomes convinced that Lilah and her people are concealing scandalous activities. Activities that will bring the wrong kind of attention. FBI, DEA, CIA…maybe all of them at once. And if Micah can't persuade his sister to leave with him before the bomb drops, they'll both be torn apart by the explosion.
Thanks to the author for gifting me this review copy!
In this chapter of Micah Reed's life, he has gotten on the wrong side of an angry drug dealer (purely by mistake, of course). He decides to kill two birds with one stone: leave town for a while until things cool off, and visit his sister in the meantime.
Unfortunately, his sister isn't that overjoyed to see him –  and neither are her roommates. Apparently she has gotten herself mixed up with a religious cult. Micah is offered room and board there, and he immediately starts snooping around. What he finds is nothing but trouble. He has to un-brainwash his sister in time to save both their lives.
This book is truly action packed and funny. Micah is still asking the head of Boba Fett for advice, shakily remaining sober (even managing AA meetings in his newfound home), and missing his family. He is frustrated and confused by his sister's lack of interest in him, and this lack of interest adds more information to his backstory. We learn more about why Micah had to go into Witness Protection, and we continue to see him as a somewhat reckless but always goodhearted hero.
I'll admit, NAILGUN MESSIAH is a strange name for a book, but it all becomes clearer towards the end. Heskett's knack for sly humor and off kilter action is front and center at the denoument. Also evident is the author's knowledge of the Nederland area and the Frozen Dead Guy festival (it's all true). Setting the story here provides an unusual and refreshing backdrop to the story; the things that happen here seem so much more plausible given the locals.
We also get to know his sister. Personally, I think she is way too hard on Micah – she treats him to stony silence and sneers, even after he apologizes for his past actions and gives her a thorough explanation. He loves her, though, and sticks to his rescue plan long after I would have given up on her and left her to her fate with the religious nuts.
But that is what makes Micah a wonderfully flawed leading character. As I mentioned in a previous review, he is clearly human, with a knack for helping people at his own expense. I think he is sometimes lonely but doesn't really want to admit that. His relationship with his AA sponsor is the most multi leveled thing he has in his life, and it keeps him steady and grounded.
The ending of the story paves the way for many story lines; I'll be eagerly awaiting to see what lies ahead for Micah in the future!
Want your own copy? You can pick it up [easyazon_link identifier="B019KNRPU0″ locale="US" nw="y" tag="gimmethatbook-20″]here[/easyazon_link].