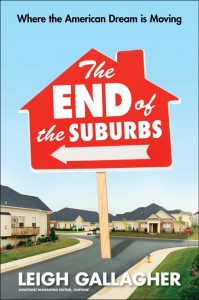 "The government in the past created one American Dream at the expense of almost all others: the dream of a house, a lawn, a picket fence, two children, and a car. But there is no single American Dream anymore."

For nearly 70 years, the suburbs were as American as apple pie. As the middle class ballooned and single-family homes and cars became more affordable, we flocked to pre-fabricated communities in the suburbs, a place where open air and solitude offered a retreat from our dense, polluted cities. Before long, success became synonymous with a private home in a bedroom community complete with a yard, a two-car garage and a commute to the office, and subdivisions quickly blanketed our landscape.
But in recent years things have started to change. An epic housing crisis revealed existing problems with this unique pattern of development, while the steady pull of long-simmering economic, societal and demographic forces has culminated in a Perfect Storm that has led to a profound shift in the way we desire to live.
In The End of the Suburbs journalist Leigh Gallagher traces the rise and fall of American suburbia from the stately railroad suburbs that sprung up outside American cities in the 19th and early 20th centuries to current-day sprawling exurbs where residents spend as much as four hours each day commuting. Along the way she shows why suburbia was unsustainable from the start and explores the hundreds of new, alternative communities that are springing up around the country and promise to reshape our way of life for the better.
Not all suburbs are going to vanish, of course, but Gallagher's research and reporting show the trends are undeniable. Consider some of the forces at work:

• The nuclear family is no more: Our marriage and birth rates are steadily declining, while the single-person households are on the rise. Thus, the good schools and family-friendly lifestyle the suburbs promised are increasingly unnecessary.
• We want out of our cars: As the price of oil continues to rise, the hours long commutes forced on us by sprawl have become unaffordable for many. Meanwhile, today's younger generation has expressed a perplexing indifference toward cars and driving. Both shifts have fueled demand for denser, pedestrian-friendly communities.
• Cities are booming. Once abandoned by the wealthy, cities are experiencing a renaissance, especially among younger generations and families with young children. At the same time, suburbs across the country have had to confront never-before-seen rates of poverty and crime.
Blending powerful data with vivid on the ground reporting, Gallagher introduces us to a fascinating cast of characters, including the charismatic leader of the anti-sprawl movement; a mild-mannered Minnesotan who quit his job to convince the world that the suburbs are a financial Ponzi scheme; and the disaffected residents of suburbia, like the teacher whose punishing commute entailed leaving home at 4 a.m. and sleeping under her desk in her classroom.
Along the way, she explains why understanding the shifts taking place is imperative to any discussion about the future of our housing landscape and of our society itself—and why that future will bring us stronger, healthier, happier and more diverse communities for everyone.
Leigh Gallagher's The End of the Suburbs is a book of social history in the same vein as, and of similar caliber to, the ancestral classic of its genre, Crabgrass Frontier by Kenneth T. Jackson. Like that book, this one avoids several of my pet peeves. It shuns ostentatious language in favor of highly function, dense, understandable sentences. No word seems to be solely dedicated to creating emphasis without also fleshing out the meaning of what is being said.  The discipline in research displayed in this book, unfortunately, did not match the the discipline in language.
I understand that it is unfair to expect of any book the thorough and relentless inclusion of data and primary source material provided by Mr. Jackson in Crabgrass Frontier. However, I must note that the difference in reading experiences between these two books is probably founded in this lack. In Crabgrass, the reader doesn't feel like he or she is being convinced of anything. There is hardly any deductive step in that wonderful book about which the reader must say, "I'll give Mr. Jackson that one." Instead, Mr. Jackson would support a statement with publicly accessible data or primary source material, deduce something from that statement, and then support the deduction with MORE data or primary source material. What is different in Gallagher's work is that reading it is like crossing a bridge of ordinary construction, with what looks to me like enough structural support to safely get me from one side to the other. But hey, what do I know? I don't build bridges for a living, and she does, so I'll trust her and drive over the bridge. Reading Mr. Jackson's book is like driving on what seems to be an ordinary road on solid ground, and then have your rendezvous partner at the end of your journey ask, "How was your passage over the river?" You reply, "There was a river?"
If you don't mind deductive passages spanning fractions of entire chapters without references to sources (and I imagine that most will not mind) there is much to love in the potentially mind-expanding subject matter here. Mrs. Gallagher connects the decline in childhood outdoor activity not to the advent of television and electronic entertainment, but to changes in the design of suburban landscapes. She investigates the pressures of the Millennial generation on the demand for suburban accommodation, and she provides a rich historical backdrop for the future she predicts. The average reader of Mrs. Gallagher's book will finish it much more informed about American modern history, demographics, architectonics, and demographics than he or she was before. Furthermore, the relative paucity of primary source material helps to make The End of the Suburbs more fluidly readable than Crabgrass Frontier. This accessibility, and Mrs. Gallagher's lighter tone, will hearten her work to more casual readers than myself, i.e. nearly everyone.
Want your own copy? You can pick it up [easyazon_link identifier="B00HTKAEDM" locale="US" nw="y" tag="gimmethatbook-20″]here[/easyazon_link].