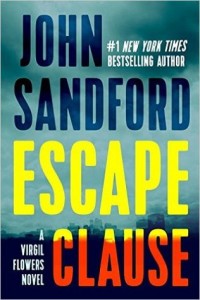 The first storm comes from, of all places, the Minnesota zoo. Two large, and very rare, Amur tigers have vanished from their cage, and authorities are worried sick that they've been stolen for their body parts. Traditional Chinese medicine prizes those parts for home remedies, and people will do extreme things to get what they need. Some of them are a great deal more extreme than others — as Virgil is about to find out.
Then there's the homefront. Virgil's relationship with his girlfriend Frankie has been getting kind of serious, but when Frankie's sister Sparkle moves in for the summer, the situation gets a lot more complicated. For one thing, her research into migrant workers is about to bring her up against some very violent people who emphatically do not want to be researched. For another…she thinks Virgil's kind of cute.
"You mess around with Sparkle," Frankie told Virgil, "you could get yourself stabbed."
"She carries a knife?"
"No, but I do."
Forget a storm – this one's a tornado.
Many thanks to NetGalley for this review copy!
Seeing a new John Sandford book on the shelf is always a thrill, and even more so when it's a Flowers outing. Sandford's Davenport character is well written, but Flowers is truly a joy to experience. It seems to me that the author permits himself to really cut loose in writing about Virgil's exploits; his writing seems to mirror Carl Hiaasen's more than his own.
That being said, I love Carl Hiaasen. His character development ranges from the sublime to the ridiculous, and so it goes here with ESCAPE CLAUSE.
The main bad guy is a disgraced doctor who pops Xanax like M&M's. The other bad guys are truly caricatures of villains, even down to how they meet their untimely demise. In fact, I would say that this book by far is the most gory and strange Virgil story yet.
It starts out normal enough: our hero is asked to track down two missing tigers from the Minneapolis zoo. Once he starts shaking the tree, all sorts of things start falling out. We learn about the dark side of traditional Chinese medicine, and also experience a sub plot with wild characters as well – Virgil's girlfriend has a sister named Sparkle who is dating a priest.
Don't let the rollicking crazies fool you – this is a serious mystery that will keep you turning the pages. Even though we know whodunit already, seeing them brought to justice (or not) is captivating. Virgil is getting tired of handling animal cases (remember the dognappers from a previous book?) but he throws his all into tracking these rare tigers down with a fervor that will delight the most sensitive animal lover. He truly has fun while on the job, and it shows.
ESCAPE CLAUSE can be read as a standalone novel, but fans of Virgil will delight in all the in-jokes and references to previous adventures. Sandford keeps getting better and better. This was one of the best books I've read this year.
Want your own copy? You can pick it up [easyazon_link identifier="0399168915″ locale="US" nw="y" tag="gimmethatbook-20″]here[/easyazon_link].