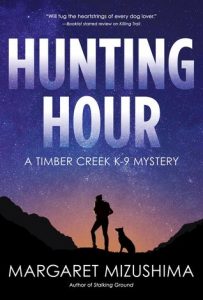 Deputy Mattie Cobb is working through issues from her past and has withdrawn from Cole Walker and his family to focus on herself, when she and her K-9 partner Robo get called to track a missing junior high student. Until they find the girl on Smoker's Hill behind the high school, dead. But that's only the start of trouble in Timber Creek, because soon another girl goes missing–and this time it's Sophie Walker. Hard as they search, Cole, Mattie, and Robo can't find her anywhere. Mattie's primary suspect, a strange man who lives near the wilderness area, calls to report he hears deer "screaming" in the woods. Suspecting the man might have lost touch with reality and is referring to something he's done to Sophie, Mattie takes Robo into the dense pine forest, hoping to pick up a trace of her scent. But when Robo does catch Sophie's trail, it leads them to another clue that challenges everything they thought they knew about the case. Now Mattie and Robo must rush to hunt down Sophie's kidnapper before they're too late in Hunting Hour, the third installment in critically acclaimed author Margaret Mizushima's exhilarating mystery series.
Many thanks to NetGalley for providing me with this ARC in exchange for a review!
Hunting Hour has the best of both worlds for me; a murder mystery plus a lot of canine activity. Not sure how I managed to miss this series, but I'm glad NetGalley decided to recommend it to me.
This book is number three in a series, which means that there are things alluded to from the first two books in order to flesh out the backstory. These flashbacks piqued my interest and I am going back to read the other books in the series, if only to see how Mattie was doing mentally before the history with her father came to light.
The author is brilliant, painting Mattie's K9 partner as the only trustworthy companion she has. Despite her emotional issues, Mattie is a great cop. Some of her demons move to the forefront during this investigation, and she struggles to stay neutral and weigh all the evidence equally. Letting your personal history color your opinions is something that many people experience, and I found it refreshing that the story took this turn. Mattie truly wants to do the best she can for the victims, yet she can be blinded by personal issues. The other members of the police department understand what she is going through and are appropriately sympathetic.
There isn't a lot of rollicking "cop talk" as you would find in a John Sandford book, but the action and suspense held my interest. The author threw in the required red herrings, but to my surprise, I managed to guess who the perpetrator was fairly early in the book. I had a strong suspicion, and was satisfied when it turned out to be who I suspected.
I absolutely loved that one of the main characters was a veterinarian! The animal medicine was true to life, not too gory, and added another dimension to the plot that was refreshing. The romance was part of the backstory, but kept at an acceptable level. (I'm not a fan of mixing mysteries and relationships.)
The inclusion of the animals makes this series stand out. Dogs are the best companions ever, and the human – animal bond shines through on nearly every page. Mizushima's description of Robo's facial expressions are perfect! I didn't know what to expect, as some animal mysteries are written awkwardly; but there was nothing awkward about this one. I felt fully invested in the characters, the dialogue was smooth, and there were no gaping holes in the plot to make me cringe.
Hunting Hour was a great way to spend a few hours, and I look forward to the next adventure of Mattie and Robo.
Want your own copy? You can pick it up [easyazon_link identifier="1683312775″ locale="US" nw="y" tag="gimmethatbook-20″]here[/easyazon_link].