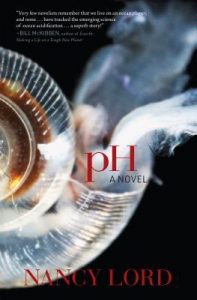 When marine biologist Ray Berringer and his student crew embark on an oceanographic cruise in the Gulf of Alaska, the waters are troubled in more ways than one. Ray's co-leader, a famed chemist, is abandoning ship just as the ocean's pH is becoming a major concern. Something at their university is corrosive, and it's going to take more than science to correct. Powerful bonds are forged among offbeat characters studying the effects of ocean acidification on pteropods, a tiny, keystone species, in this cutting-edge CliFi novel.
PH –  A NOVEL is a fun and informative read about marine biologists and their passion. It starts out as we watch the cast of quirky characters navigate their yearly boat trip, collecting specimens and bonding along the way. The requisite "bad guy" is a two-faced arrogant chemist; and there are the dual specters of global warming and ocean acidification to add some drama.
Ray Berringer is a quiet man who just wants to photograph and catalog pteropods, but he finds a target on his head when he tries to uncover corruption at his university. His students (and one very unusual artist) come together to support him, utilizing unconventional methods – performance art, sit ins, a little sabotage – that are in turns endearing and hilarious.
Author Nancy Lord's talent for dialogue makes this novel stand out. The ocean's pH, a potentially dull and complex subject, is easy to understand here. The Alaskan natives and political actors who make it their concern reveal the poignancy in the otherwise clinical science. This sleeper of a novel surrounds you with the realization that we are slowly killing the ocean that nourishes us. It seeps into your subconscious in between the brilliant dialogue and backstabbing drama. With just the right touch of pathos and humor, Lord shouts her agenda quietly.
Pitting environmental defenders against unethical university officials makes it easy to choose sides, regardless of what you believe. The tiny pteropods are portrayed as cute, harmless creatures who become the unofficial mascot of the group. Ray Berringer is appropriately reticent and passive, while the artist Annabel takes up the cause with aplomb. Using all the weapons in her armory, such as performance art and lighting origami on fire and setting it adrift on the beleaguered ocean, Annabel is a character that could easily be written off as a crackpot, but isn't. Prepare to be delighted.
Regardless of your opinion on climate change, PH – A NOVEL is a pleasant and thought provoking read. I highly recommend it. Want your own copy? You can pick it up [easyazon_link identifier="1513260685″ locale="US" nw="y" tag="gimmethatbook-20″]here[/easyazon_link].