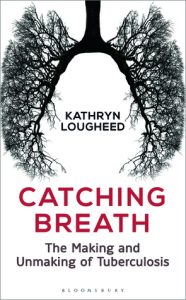 With more than a million victims every year–more than any other disease, including malaria–and antibiotic resistance now found in every country worldwide, tuberculosis is once again proving itself to be one of the smartest killers that humanity has ever faced. But it's hardly surprising considering how long it's had to hone its skills. Forty-thousand years ago, our ancestors set off from the cradle of civilization on their journey towards populating the planet. Tuberculosis hitched a lift and came with us, and it's been there ever since; waiting, watching, and learning.
The organism responsible, Mycobacterium tuberculosis, has had plenty of time to adapt to its chosen habitat–human lungs–and has learned through natural selection to be an almost perfect pathogen. Using our own immune cells as a Trojan Horse to aid its spread, it's come up with clever ways to avoid being killed by antibiotics. But patience has been its biggest lesson–it can enter into a latent state when times are tough, only to come back to life when a host's immune system is compromised. Today, more than one million people die of the disease every year and around one-third of the world's population are believed to be infected. That's more than two billion people. Throw in the compounding problems of drug resistance, the HIV epidemic, and poverty, and it's clear that tuberculosis remains one of the most serious problems in world medicine.
Catching Breath follows the history of TB through the ages, from its time as an infection of hunter-gatherers to the first human villages, which set it up with everything it needed to become the monstrous disease it is today, through to the perils of industrialization and urbanization. It goes on to look at the latest research in fighting the disease, with stories of modern scientific research, interviews with doctors on the TB frontline, and the personal experiences of those affected by the disease.
Thanks to NetGalley for this ARC!
I have mixed feelings about this book. On one hand, the research and science are excellent and multilayered. You can easily discern the love the author has for tuberculosis and how to contain it. On the other hand, some of her attempts at humor and lightening the mood seemed out of place to me. A reader who is not familiar with pop culture may find some of her sentences confusing – such as:
"Basically, in some settings, the machines are just sitting there like big ugly espresso machines that no one really knows how to use. Even if someone does get the urge to brew some coffee, George Clooney has used the last cassette and not put in a new order".
I would be totally immersed in the science aspect and she would throw something like that in there from time to time. It seemed as if she was attempting to lighten the serious subject up with these humorous asides, but it just didn't work for me.
There are a lot of facts and statistics about TB, which are staggering when you stop to consider how many people have been, and are, suffering from this disease. Certainly TB doesn't get the airtime of, let's say, AIDS or cancer – but its presence is still felt daily in places like Africa or India. I hadn't realized how prevalent it still is, or how stricken these countries are.
The writer goes deep into the origin of TB and the different ways scientists are trying to defeat it. It's a canny bacteria, though, and has the ability to mutate or take advantage of other sicknesses in the body. After reading CATCHING BREATH, I know more about TB than I ever have; from the obvious to the minutiae, the author gives us everything she's got. I definitely appreciate her effort but the writing style was at times too dry, too broadly humorous or too rambling. Maybe a bit of editing would do the trick? In any case, don't avoid this book if you are a fan of diseases – just be prepared for a little strangeness. You will be educated, amazed, and humbled by this tenacious germ.
Want your own copy? You can pick it up [easyazon_link identifier="1472930347″ locale="US" nw="y" tag="gimmethatbook-20″]here[/easyazon_link].