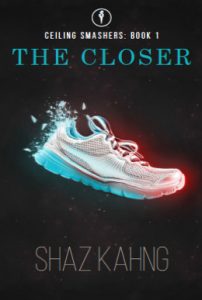 The decision was irreversible. . .Vivien would become either the most remarkable female executive in the sports industry, or the biggest failure.
Vivien Lee has spent her entire consulting career helping CEO's look good, so when she finally has the chance to go after her dream of running a business, she grabs it. A lifelong athlete, Vivien arrives at the Smart Sports campus in Portland, Oregon and is introduced as the first female president. It's one of the highest-profile jobs in an industry inhospitable to women. Principled but slightly naive, Vivien believes her male peers will give her a fair shot.


Stumbling early, Vivien makes a series of rookie mistakes. With guidance from the Ceiling Smashers, a secret society of successful professional women, Vivien learns to navigate the treacherous business terrain. A tight-knit group of male sports executives is determined to show that an industry outsider cannot prevail. The challenge is all too clear: will Vivien triumph in the sports industry against impossible odds?
You'll want to stay up all night to find out what happens to Vivien and share her inspiring story with your friends. This is a fresh, riveting tale about a strong woman endeavoring to succeed with smarts, scruples, and style.
Thanks to NetGalley for this ARC!
This book caught my eye because it was advertised in a runner's blog. The plot is not mainly about athletic ability; it's about a businesswoman trying to break through the glass ceiling at a fictional Nike rival. It began with the main character, Vivien, being lauded at her job for solving crises and rescuing sales accounts in danger of being lost. This part sets the stage to show Vivien as an overachieving Type A that succeeds at everything she does. All her friends are equally perfect, having MBA's from the Wharton School, shiny hair, and stunning wardrobes. It began to be too much for me, and the book was almost a DNF. There was a lot of girl conversation and wine; then the plot twist saved the day – Vivien quits her job as a consultant to move across the country to work for Smart Sports in Portland.
Things improved a great deal with the change of venue. There was less perfection and more struggle, with the glass ceiling in full effect. Misogynistic coworkers lay traps for Vivien, which she occasionally falls into. I had a hard time believing someone so savvy could be tricked like that. She was way too trusting – I kept thinking about how obviously the men were plotting against her and she was just trying to be "friends" with them.
The best part of the book for me was reading about the clothing and shoes, and how they were designed and marketed. Second best was seeing Vivien out-think the men, despite treachery  and politics everywhere. It's too bad that this book is designed to appeal to women; more men should be reading about the struggles that we face in the business and sports world. None of these things seemed over the top or impossible; I'm sure that the author is writing from personal experience, with names changed to protect the guilty.
There is satisfaction as Vivien lives to fight another day against the evil male empire, but I may not be picking up the second book in the series. It's enough that I live it, I don't want to read about it.
Having said that – this book is recommended for its erudite and resilient main character. Chick lit fans should grab this to experience a different kind of strong woman. You can pick up your copy [easyazon_link identifier="0998656607″ locale="US" nw="y" tag="gimmethatbook-20″]here[/easyazon_link].