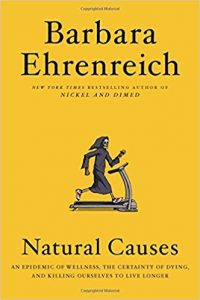 A razor-sharp polemic which offers an entirely new understanding of our bodies, ourselves, and our place in the universe, Natural Causes describes how we over-prepare and worry way too much about what is inevitable. One by one, Ehrenreich topples the shibboleths that guide our attempts to live a long, healthy life — from the importance of preventive medical screenings to the concepts of wellness and mindfulness, from dietary fads to fitness culture.

But Natural Causes goes deeper — into the fundamental unreliability of our bodies and even our "mind-bodies," to use the fashionable term. Starting with the mysterious and seldom-acknowledged tendency of our own immune cells to promote deadly cancers, Ehrenreich looks into the cellular basis of aging, and shows how little control we actually have over it. We tend to believe we have agency over our bodies, our minds, and even over the manner of our deaths. But the latest science shows that the microscopic subunits of our bodies make their own "decisions," and not always in our favor.
We may buy expensive anti-aging products or cosmetic surgery, get preventive screenings and eat more kale, or throw ourselves into meditation and spirituality. But all these things offer only the illusion of control.
Thanks to NetGalley for this ARC in exchange for an honest review!
Natural Causes is like having two books in one. The beginning section discusses whether eating "right" and exercise will truly extend our life expectancy, or if those admonitions are erroneous. The author makes some good points, while others seem a bit dubious to me. Her writing is at times self-deprecating and humorous; other times erudite.
The second part of the book is a bit dry, as she delves into the philosophical side of what is "self", and how we think about death and dying. There is also well written chapters about inflammation, cancer, and how we may be doomed to succumb despite positive thinking and the best efforts of our oncologists.
As a long distance runner, I felt an uncomfortable feeling as the author worked through debunking exercise "myths". Did I agree with her or not? I agreed with the section on medical ritual, as explained by Stanford medical professor Abraham Verghese during one of his TED talks. He discusses a breast cancer patient who chooses a less prestigious facility over one with valet parking, a welcoming atrium, etc. The reason? The first facility actually gave her a physical exam, using touch and interaction. If I visit a doctor and do not get my eyes, ears, or lung sounds assessed, I feel cheated. Ritual displays, whether they are a placebo or not, satisfy and calm me. I also felt a kinship with the chapter on mindfulness and ADHD, as she discusses electronic addiction and how that is depleting our attention span.
As I read on I realized that I did not agree with her decision to shun yearly exams (her thoughts are that the doctors are "looking for problems that remain undetectable to me"). The author also discusses repetitive x-rays of the teeth, mammograms and their tendency towards false positives, and colonoscopy.
When she started noting the evidence of "overdiagnosing" due to the multitude of various health screenings available, I simultaneously agreed and disagreed. A 90-year old woman does not need a mammogram; a 30-year old should get Pap smears and yearly bloodwork.
The chapter entitled Cellular Treason was most interesting; explaining that perhaps all the steps we take to remain healthy may be for naught; our cells will do what they want regardless. It was at this point in the book that the writing became more scientific and less opinionated, and leaned towards the dry and almost dull. I rather enjoyed the cantankerous, tinfoil hat-like musings from the beginning.
Ehrenreich may be a detractor of medicine, but she is no dope. She is intelligent and can put a sentence together well. This book is certain to spark debate, which hopefully was her intent. Each chapter has the ability to appeal to a wide range of people, as well as invite criticism. I feel better prepared to face my doctor after reading it.
Want your own copy? Head over to Amazon and grab it!