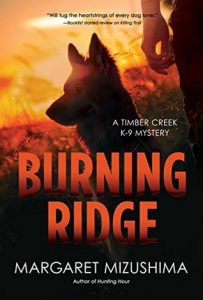 Featuring Mattie Cobb and her K-9 partner Robo, Burning Ridge by critically acclaimed author Margaret Mizushima is just the treat for fans of Alex Kava.

On a rugged Colorado mountain ridge, Mattie Cobb and her police dog partner Robo make a grisly discovery—and become the targets of a ruthless killer.
Colorado's Redstone Ridge is a place of extraordinary beauty, but this rugged mountain wilderness harbors a horrifying secret. When a charred body is discovered in a shallow grave on the ridge, officer Mattie Cobb and her K-9 partner Robo are called in to spearhead the investigation. But this is no ordinary crime—and it soon becomes clear that Mattie has a close personal connection to the dead man.
Joined by local veterinarian Cole Walker, the pair scours the mountaintop for evidence and makes another gruesome discovery: the skeletonized remains of two adults and a child. And then, the unthinkable happens. Could Mattie become the next victim in the murderer's deadly game?
A deranged killer torments Mattie with a litany of dark secrets that call into question her very identity. As a towering blaze races across the ridge, Cole and Robo search desperately for her—but time is running out in Margaret Mizushima's fourth spine-tingling Timber Creek K-9 mystery, Burning Ridge.
Thanks to Netgalley for this advance reviewer's copy! This is Margaret Mizushima's fourth book in this series, and I'm happy to say that it's holding my interest just as much as the first one did.
Mattie and loyal K9 partner Robo are handling a crime that hits too close to home. Mattie is slowly coming out of her emotional shell, but still has a long way to go when it comes to opening her heart to veterinarian Cole Walker. As she is preparing to reconnect with her brother, whom she has not seen in many years, she becomes involved with a body that is found deep inside the forest. Is she really surrounded by people that she can't trust – or does she need to let her guard down and see what happens?
Mizushima's characters are true to life and nuanced. Mattie is definitely more emotionally grounded, but still views her German Shepherd, Robo, as her closest ally. Robo is superb as the K9 officer, who can alternatively tug at your heartstrings when he plays with Mattie or make you cheer as he takes down the bad guy. We should all have a dog as loyal and supportive as he is.
Twists and turns kept me reading for hours – I didn't want to put it down! This police procedural is just the right mix of action, dialogue, canine antics, and suspense. Most of the suspense comes in the last 20% of the book, but it's worth waiting for. Robo's skills are put to the test as he handles his most daunting task so far, and I held my breath to see what would be happening next. Mizushima's writing is easy on the brain, despite some plot nuances and characters that appear in the beginning, only to disappear, then pop up again. The love the author has for the Colorado mountains and forests is evident in her thorough description of Mattie's surroundings. I felt as if I were right alongside the characters, fully immersed.
The only concern I have is early on, when veterinarian Cole shows up at his clinic early in the morning. Some patients stayed overnight, and they are described as just waking up from anesthesia. It's not proper medical practice to leave a patient unattended immediately after anesthesia, much less overnight without care. Yes, the procedure was a "routine" spay – but there is no mention of any veterinary nurses other than Cole's coworker. This was jarring to me and it took me a while to get past that. Every other instance of veterinary work was perfect, and an excellent layer to the book. Note to the author: add more veterinary scenes to your book! It's always a good thing to have the public see how hard vets and nurses work to care for pets and livestock.
If you have not read any Timber Creek mysteries yet – pick this up! To better gain an understanding of Mattie and what makes her tick, start with the first book. This one could stand alone, but the backstory will help some of the details make more sense.
Want your own copy? You can pick it up here.