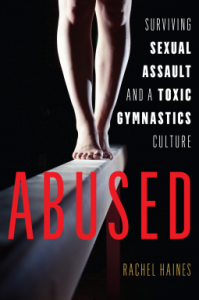 Two-year-old Rachel Haines didn't know that she would be committing to twenty-one years of hard work, dedication, and perseverance as she jumped into the foam pit during her first "mommy and me" gymnastics class. She had no idea that one day she would become a two-time National Team Member, two-time National Champion, and a Division I college gymnast at the University of Minnesota. Nor could she have known that she had just signed herself up for serious injury, emotional distress, and continuous sexual assault by world-renowned trainer turned serial molester, Larry Nassar.

In Abused: Surviving Sexual Assault and a Toxic Gymnastics Culture, Rachel details her experiences as a competitive gymnast and the painful realities of being one of Nassar's many victims. With honesty and candidness, Rachel shares how the sport she loved that gave her so much—friendships, accomplishments, a college education—is also tangled in a dangerously toxic culture that needs to be fixed. In a world that was setting her up for a lifetime of recovery, she tells how faith, family, and an army of survivors made healing possible.
Thanks to NetGalley for this ARC!
This story will grab you and not let you go until you reach the last word. It may even stay with you, with the atrocities and pressure that author Rachel Haines sustained buried deep in the back of your mind.
It is easy to think of gymnasts the same way we consider ballerinas: ethereal, feminine, able to perform superhuman feats of leaping and twisting that doesn't seem possible. However, the two fields possess a few more similarities that are not so desirable. Both contain instances of eating disorders, perfectionism, toxic cultures….and abuse. In 2018 the prestigious New York City Ballet fired two male dancers after harassment charges had been brought against them. The history of abuse, both physical and sexual, is storied in the ballet world. Men (whether dancers or choreographers) hold all the power, and women are treated as second class citizens.
It seems that men hold all the power in gymnastics as well. Last year the horrific story about Larry Nassar's hundreds of victims surfaced, which empowered other victims to come forward and share their story of the abusive culture they experienced. Coaches such as John Geddert and Bela Karolyi used their temper to mentally and physically abuse gymnasts under the guise of "encouragement" or to "toughen them up for competition". The athletes were surrounded by a cloak of silence, looking inward and wondering if they were misreading Nassar's "treatments", which included taking pills and/or enduring digital manipulation (internal and external). As time went on, the gymnasts became inured to what was happening to them and accepted it as part of their lot in life. After all, they had chosen to be gymnasts, and to deny or expose this part would result in them being shunned or removed from the environment they knew and loved. As Haines notes, being a gymnast was her reason for living. No matter how painful or stressful it was, she was first and foremost, an elite athlete who performed gymnastics for a living. She knew of no other world, nor did she want to.
As Haines became more competitive, she sustained a horrific injury to her back (it was broken in multiple places) and had to work through pain on a daily basis. Nassar made sure to give her many "treatments" while telling her that while her back was injured, she was still cleared to perform her routines. As time went on, her legs grew numb. Her pre-competition ritual consisted of slathering immense amounts of Icy Hot on her legs, then punching them or cutting them so she would be able to detect a modicum of sensation. As I read further into the book, I was speechless at how she was able to keep performing (check out her videos on YouTube). Once, her legs betrayed her during competition. She bravely took a moment, then got back on the beam to complete her routine. If that is not courage, strength, pluck, bravery, and badassery, then I don't know what is. Yet, through all of this, she was filled with self-doubt and impostor syndrome. Haines felt like she could never be equal to others and would often compare herself to other gymnasts. This left her wanting to be better, to be worthy, to be deserving.
Women are usually their own worst critics. The pressure Haines put on herself was unbelievable, as her fierce spirit held her in good stead throughout multiple years of practice, excruciating pain, and sexual abuse. Despite all her achievements, Haines still believed she was not good enough. This book will take you through her entire gymnastics journey, the highs and lows, the pain and the victories. It will also give you new respect for Haines and the other gymnasts who had to suffer through Nassar's years of abuse. Haines bares her soul, her doubts, and her faith in this book, and I am sure it was not an easy task. Looking inward, then speaking out is one of the most intimidating things a woman can do; and Haines showed us her strength and wisdom, even as she confronted Nassar at his trial.
If this story does not move you or fill you with pride at how these women were able to overcome adversity, you had better check your pulse. Pick up your copy here.