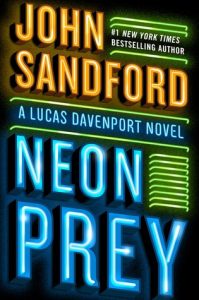 Lucas Davenport pursues a prolific serial killer who has gone undetected for years in the newest nail-biter by #1 NewYork Times bestselling author John Sandford.

It was a relatively minor criminal matter, all things considered, but enough that the US Marshals obtained a warrant to enter the home. They didn't expect to unearth trophies from a score of killings.

Now Davenport is on the trail of a serial murderer, one who was able to operate for years without notice or suspicion. But there's even more to this killer than meets the eye…
Thanks to NetGalley for this ARC!
It's hard to believe that this is Davenport's 29th adventure. He's gotten shot, stabbed, punched numerous times, and suffered various other indignities. In NEON PREY he and his fellow Marshals Bob and Rae are hot on the heels of a cannibal. Multiple bodies have been found in the yard of Clayton Deese, and the Marshals want to ask him some questions. Deese, however, is not cooperating.
When Lucas and Co. discover that the livers from the bodies are missing, and the barbeque grill from Deese's house has been used, they realize that they are not looking for a typical run-of-the-mill killer. Bob, Rae, and Lucas share the spotlight equally, which is different from previous books. It almost seems as though Lucas is part of the supporting cast rather than the main character. Even his "cop talk" is secondary to that of Bob and Rae.
Las Vegas is a quirky setting that provides both sparkle and squalor. There is a section of the book where Deese and his crew hang out at a friend's ramshackle trailer. As I read on, I could hear the banjos from "Deliverance" in the background – it was that eerie!
My thoughts on this one is that it's a firm middle-of-the-road Prey novel. What stood out for me was that Davenport seems to be feeling his age (both mentally and physically) here. No spoilers; but I was not ready for some of the plot twists. Kudos to the author for keeping his characters human with relevant emotions.
I'd love to know what you think of #29 – leave me a comment with your thoughts. You can pick up your copy here.