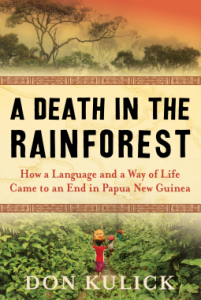 One of Time's 32 Books You Need to Read This Summer

"A profoundly human story about a seemingly exotic and strange place that really isn't so strange at all." —Carl Hoffman, author of The Last Wild Men of Borneo

As a young anthropologist, Don Kulick went to the tiny village of Gapun in New Guinea to document the death of the native language, Tayap. He arrived knowing that you can't study a language without understanding the daily lives of the people who speak it: how they talk to their children, how they argue, how they gossip, how they joke. Over the course of thirty years, he returned again and again to document Tayap before it disappeared entirely, and he found himself inexorably drawn into their world, and implicated in their destiny. Kulick wanted to tell the story of Gapuners—one that went beyond the particulars and uses of their language—that took full stock of their vanishing culture. This book takes us inside the village as he came to know it, revealing what it is like to live in a difficult-to-get-to village of two hundred people, carved out like a cleft in the middle of a tropical rainforest. But A Death in the Rainforest is also an illuminating look at the impact of white society on the farthest reaches of the globe—and the story of why this anthropologist realized finally that he had to give up his study of this language and this village.

An engaging, deeply perceptive, and brilliant interrogation of what it means to study a culture, A Death in the Rainforest takes readers into a world that endures in the face of massive changes, one that is on the verge of disappearing forever
Thanks to NetGalley for this ARC!
This is an easy read about the likeable members of a tribe in Papua, New Guinea. First of all, I have to give the author props for having the gumption to head into the darkest of rainforests (the only way to reach the village of Gapun is to traverse rivers and thick forests for hours) multiple times.
At first, the author's statement that all Papuans not-so-secretly want to be white people was a bit off-putting. As I read further, I understood what he meant – they wanted to be successful, not necessarily turning their back on their race.
I also marveled at the author's dedication to learning, then transcribing Tayap, the difficult language of Gapun. There are gender-related endings to words, which confused him in the beginning, but then he was able to create a large body of work describing the grammar and vocabulary of the Gapuners. Their language is slowly being replaced by one called Tok Pisin, which is a pidgin version of English. The lamentable reason for this loss of language is that the younger generations don't wish to learn to speak Tayap – they feel that is for old people and choose to speak Tok Pisin instead. Once the elders of the tribe pass away, so will Tayap, preserved only in the author's memory and his comprehensive body of work. That seems poignant to me; working so hard to preserve something that is vanishing before your very eyes. The fact that this language was confined to less than 500 humans at the time of writing is mind -boggling. Another poignant thought is that while these villagers were sharing their language with the author, they were also sharing the memories of their lives. As Kulick puts it: "Today, those recordings are all that remains of their stories, songs, and explanations".
The author relates stories of his time in Gapun, complete with self-deprecating humor and details that will make you cringe (imagine eating grubs or maggots?) or make you smile ( an intrepid youngster dubs himself the "security" guarding the author and subsequently stays by his side zealously).
DEATH OF A LANGUAGE is a wonderfully written book that will make you think about many things -the loss of this language, the circle of life, and the strength of this anthropologist who devoted so much of his life to these villagers. You can pick up your copy here.