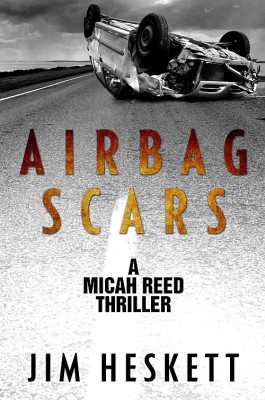 Micah Reed's name isn't Micah Reed. He was born someone else, before the trial, before his new identity. Now he wants to leave his life of crime in the past, but it seems to keep finding him.

After a serious car crash, he wakes to find his body aching and battered, with bruised knuckles and a black eye. What happened last night?
And while he chases clues to piece together the events preceding the car crash, a psychotic former acquaintance will make a sudden and violent appearance. Donovan went to jail because of Micah's testimony, and now he wants to see Micah pay for his sins.
And it won't only be Micah's life in jeopardy, if he can't fight off Donovan and solve the mystery of where his missing time has gone.
Thanks to author Jim Heskett for providing me with this review copy! He is also the author of Reagan's Ashes, reviewed by GTB here.
Micah is an alcoholic who fears that he may have killed someone while driving drunk. He's a self deprecating, honest character whose private thoughts run from the sublime to the ridiculous. The part when he was in rehab and talking to his orange juice made me laugh, as did the parts where he addresses the head of Boba Fett (his constant companion, in his pocket).
The tone and style of this book is very different from Heskett's other work, and I can see more Micah Reed books on the way. His character is written such that bits and pieces of his former life are doled out slowly along the way, and even by the end of the book you may not know exactly what makes him tick.
The story line seems convoluted in parts, especially in the case of Donovan, who is seeking to ruin Micah and is going about it the long way. Donovan is an angry guy given to fits of rage, and has cooked up a dish of revenge that he's desperate to serve to Micah. There is a strip club with multiple bodyguards that are out to get Micah as well, and the specter of the bottle is always lurking.
As the book progresses some of the plot twists become a little murky, but eventually it clears up. The last few chapters go by in a flash, and it seemed a bit hurried and a bit unsatisfying to me. Overall I enjoyed it, just not the way the way things were wrapped up. For example: there was a character killed by Donovan and then never mentioned again, not even to have the others ponder her demise…kind of a loose end. It seemed like most of the book was full of showing, and the last part was full of telling.
None of these things were deal breakers, however. I chalk that up to the author becoming familiar with this new character and developing his voice. Micah is a likeable guy despite his flaws; indeed, because of them. He's caught in a world where his past has come home to roost, and he's at a loss. I'm looking forward to the next installment to see what new details are revealed about his past, and how he manages to get himself (and Boba Fett) out of trouble again.
Want your own copy? You can pick it up [easyazon_link identifier="B015QH2O3C" locale="US" nw="y" tag="gimmethatbook-20″]here[/easyazon_link].