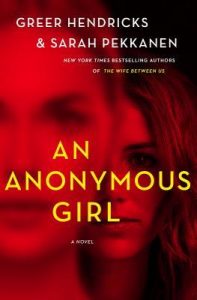 Seeking women ages 18–32 to participate in a study on ethics and morality. Generous compensation. Anonymity guaranteed. 

When Jessica Farris signs up for a psychology study conducted by the mysterious Dr. Shields, she thinks all she'll have to do is answer a few questions, collect her money, and leave. But as the questions grow more and more intense and invasive and the sessions become outings where Jess is told what to wear and how to act, she begins to feel as though Dr. Shields may know what she's thinking…and what she's hiding. As Jess's paranoia grows, it becomes clear that she can no longer trust what in her life is real, and what is one of Dr. Shields' manipulative experiments. Caught in a web of deceit and jealousy, Jess quickly learns that some obsessions can be deadly.
Thanks to NetGalley for this ARC!
Just like most of the other reviewers, I absolutely loved this book and could not put it down. The plot was immediately interesting despite Jessica's vacuous personality and poor decision making. Dr Shields was someone I loved to hate, with her internal monologues and her unemotional personality. At times she reminded me of a robot, until she started having feelings – and boy, were they unexpected!
The authors made each character an unreliable narrator, so you are thrown off balance towards the end, where the twists start to happen. The characters' past affects their future in unexpected ways, and the authors do a great job of showing how tragedy affects people differently. The underlying tension of the morality study's probing questions juxtaposed with Jessica's difficulty with her own morals will make you think about your own actions, both past and present.
The psychological scars of each character shape their actions and decisions, giving the impression that we are no better than the sum of our past. As more light is shed on each character and their own past, things start to make sense – sort of. Once we learn Dr Shield's motivation, the tension ramps up and you simply must devour each page in order to find out what happens next.
I found it quite interesting that the authors chose to have both women be strong characters, with Dr Shield's husband somewhat of a weak link. He shows up in the book later on and is just as unreliable as the two women. Despite a strong beginning, he is no match for Jessica and Dr Shields as the story line comes to a head.  That being said, all three of these characters manipulate morality for their own benefit.
Dr Shields is a nearly perfect example of someone who needs control at all costs and will go to great lengths to gain it. At times she seemed too perfectly perspicacious, always seeming to be one or two steps ahead of Jessica's machinations. However, each character has a flaw that can be exploited, and once those flaws are revealed the story starts to twist and turn as the characters unravel. I stayed up all night until I finished AN ANONYMOUS GIRL – it truly was that good. This is the book everyone will be talking about this year – don't miss it!
You can get your copy here.