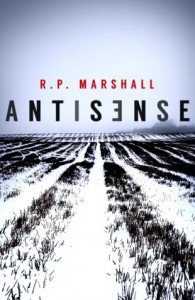 A winner has been selected for our giveaway of a copy of Antisense by R.P. Marshall! Congratulations, David H of Leeds, West Yorkshire! We hope you enjoy it. We surely did! The book is traveling a looooooong way to get to you.
If you entered the contest, and you didn't win, then you can still get your hands on a copy of the book [easyazon_link asin="B00GCS3WUO" locale="US" new_window="default" nofollow="default" tag="gimmethatbook-20″ add_to_cart="default" cloaking="default" localization="default" popups="yes"]here[/easyazon_link].
Want more information? You can find our review of Antisense here!
Here's the blurb that appears on the book:
What if you could evolve in a moment? What if you had the power to change the genetic future of your loved ones and the people they become – simply by the way you live your life? When neuroscientist Daniel Hayden's father dies, such thoughts begin to erode his very sanity, with the growing fear that he might share a dark secret buried deep in his family's past – a past he is about to relive. The idea only seems to gain credibility from the bizarre results coming from his own laboratory, forcing Daniel to resurrect the discredited theories of an eighteenth century naturalist in the process. Was Daniel's fate sealed all those years ago? Has he been betrayed by his own DNA? Antisense combines literary fiction with the sharp, crisp prose and pace of the best suspense novels. The author's insight into medical science and how it might inform the nature of human behaviour is all the more compelling because it is based on real science. It's not a whodunit, but a whydunit. Not science fiction, but fiction with real science woven through it. A thought provoking and enigmatic work.