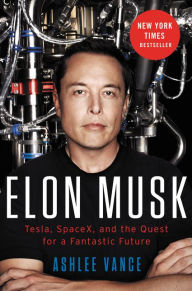 There are few industrialists in history who could match Elon Musk's relentless drive and ingenious vision. A modern alloy of Thomas Edison, Henry Ford, Howard Hughes, and Steve Jobs, Musk is the man behind PayPal, Tesla Motors, SpaceX, and SolarCity, each of which has sent shock waves throughout American business and industry. More than any other executive today, Musk has dedicated his energies and his own vast fortune to inventing a future that is as rich and far-reaching as a science fiction fantasy.

In this lively, investigative account, veteran technology journalist Ashlee Vance offers an unprecedented look into the remarkable life and times of Silicon Valley's most audacious businessman. Written with exclusive access to Musk, his family, and his friends, the book traces his journey from his difficult upbringing in South Africa to his ascent to the pinnacle of the global business world. Vance spent more than fifty hours in conversation with Musk and interviewed close to three hundred people to tell the tumultuous stories of Musk's world-changing companies and to paint a portrait of a complex man who has renewed American industry and sparked new levels of innovation–all while making plenty of enemies along the way.
Until I read Ashlee Vance's biography Elon Musk, my impression of Musk was that he was one of these hyper-efficient Silicon Valley boy geniuses who figured that being somewhat irreverent in the media would be advantageous to him. I'm cynical. What can I say?
Now, having read the book, I feel that the irreverence we see from Musk (in interviews and elsewhere)  is less manipulation than it is restraint. Vance has painted Musk as a passionate, brilliant man who would rather end up poor than not have a hand in advancing the industries where he thinks he can make a unique difference. He's not just crazy by the standards of us mortals, who consider it a good month if we pay all of our bills and have enough left over to buy a gadget or something. After cashing out of his first company, PayPal, in a world where buying a single Cold War-era Russian rocket cost his entire net worth, he decided to design his own instead. You, me, and every other sane person would have said, "I suppose I won't be starting an orbital shipping company today. Time to go find something to do that's actually possible." Elon Musk started SpaceX, and today he's manufacturing reusable rockets.
This bio isn't just a rundown of Musk's accomplishments and the obstacles he conquered on the way. Vance's account fleshes out the characters in Musk's story with interviews and investigative fact-finding. Broad foreshadowing and perspective throughout kept me engaged. Impressive stylistic choices peppered throughout the prose brought the locales where Musk's adventures play out to life. A particular description stood out to me – Musk's team had recently moved their rocket testing operation to an island called Kwaj that the United States military had used to test Star Wars technology in the 70's and 80's:
"The military presence resulted in a weird array of buildings including hulking, windowless trapezoidal concrete structures clearly conceived by someone who deals with death for a living."
This description punctuates the contrast between the status quo of the arena Musk was entering, and the vision he had for its future. It doesn't just say what the place looked like, but makes me feel like I understand how it must have felt to be there. Vance is equally adept at selecting vignettes that effectively drive home her point. She included Boeing engineer-turned-SpaceX employee Jeremy Hollman's anecdote about the ennui-inducing directionlessness on offer from SpaceX's competitors:
"…Boeing completed its merger with McDonnell Douglass. The resultant mammoth government contractor held a picnic to boost morale but ended up failing at even this simple exercise. 'The head of one of the departments gave a speech about it being one company with one vision and then added that the company was very cost constrained,' Hollman said. 'He asked that everyone limit themselves to one piece of chicken.'"
These anecdotes tend to serve their purposes well, and they never feel like they're there for their own sake. They're usually fun, engaging, and genuinely add insight to the narrative. After reading so many biographies that feel like a notebook of research shuffled at random with a publisher's seal on it, I can genuinely appreciate that she has positively nailed this aspect of her work.
Want your own copy? You can pick it up [easyazon_link identifier="0062301233″ locale="US" nw="y" tag="gimmethatbook-20″] here[/easyazon_link].