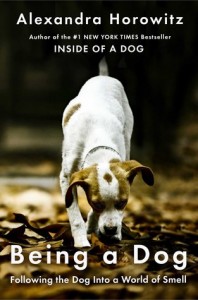 Alexandra Horowitz, the author of the lively, highly informativeNew York Times bestselling blockbuster Inside of a Dog, explains how dogs perceive the world through their most spectacular organ—the nose—and how we humans can put our under-used sense of smell to work in surprising ways.
To a dog, there is no such thing as "fresh air." Every breath of air is loaded with information. In fact, what every dog—the tracking dog, of course, but also the dog lying next to you, snoring, on the couch—knows about the world comes mostly through his nose.
In Being a Dog, Alexandra Horowitz, a research scientist in the field of dog cognition and the author of the runaway bestseller Inside of a Dog, unpacks the mystery of a dog's worldview as has never been done before.
With her family dogs, Finnegan and Upton, leading the way, Horowitz sets off on a quest to make sense of scents, combining a personal journey of smelling with a tour through the cutting edge and improbable science behind the olfactory powers of the dog. From revealing the spectacular biology of the dog snout, to speaking to other cognitive researchers and smell experts across the country, to visiting detection-dog training centers and even attempting to smell-train her own nose, Horowitz covers the topic of noses—both canine and human—from surprising, novel, and always fascinating angles.
As we come to understand how complex the world around us appears to the canine nose, Horowitz changes our perspective on dogs forever. Readers will finish this book feeling that they have smelled into a fourth dimension—breaking free of human constraints and understanding smell as never before; that they have, however fleetingly, been a dog.
Many thanks to NetGalley for providing this ARC!
I'll have to start this review off by noting the dog's nose is my favorite part.  I love the wetness, the chilly touch, and the sniffing noises that emanate from it. Imagine my glee when I saw this book's subject!
Once again, Horowitz does not fail to enthrall with her smooth writing style and excellent wordplay.  She starts off the book explaining the anatomy of the nose; then we discover why dogs have a better sense of smell than humans. The idea of being a "supersmeller" intrigues the author so much that she tries to develop this sense more. We then read about "sniff walks" and find out that in order to really get a good whiff of things, you need to bend down and put your nose where it counts. As she describes her sniff walk, we learn that in the beginning, smells may not be obvious, but at the end, after you have trained your nose and psyche to recognize and name scents, they are everywhere.
The background of scent is also discussed at length, with perfumers and dog trainers weighing in. Puppies training to be police sniffers or rescue dogs are slowly molded to track scent and find missing people. Horowitz does research by sniffing jars of unknown smells, and then has to attempt to put a name to them (a lot harder than it sounds). I was amazed to hear how her own sense of smell grew stronger with practice. It does seem to go hand in hand – practice makes perfect – but I was fascinated to read the variety of scents she was able to comprehend. It made me want to go out and practice my own sniffing!
The author's love and admiration of dogs shines through, especially when she is using her own canines as an example. She is even surprised when one of her dogs excels at sniff work, once he trains himself to truly distance himself from his domesticity and embrace his natural canine being.  This part gave me pause: we take our dogs out for a walk, but how many times do we yank them away from a tree or dubious pile of something in the street? We walk to cover ground; they walk to read scent and learn what – or who – has gone before them.
The art of sniffing is described as well, much to my appreciation. We learn the best way to pull a smell in; and also why dogs may use one nostril vs another. The sense of smell is mostly a bastard child; it's the one least discussed and is usually the one chosen in the game of "if you had to lose one of your senses, which one would it be".  Scent is truly underrated. I fully agree. Anyone who has ever tried to eat while suffering a stuffy nose will understand that scent and taste go hand in hand.
Horowitz has done a fantastic job bringing this body function to the forefront of our awareness. I challenge you to read this and not try to sniff out more things around you, even if only for a day.
BEING A DOG is a must read for lovers of both dogs and scientific things – you can pick up your copy [easyazon_link identifier="1476795991″ locale="US" nw="y" tag="gimmethatbook-20″]here[/easyazon_link].