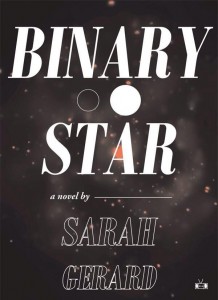 From the publisher:

"The language of the stars is the language of the body. Like a star, the anorexic burns fuel that isn't replenished; she is held together by her own gravity.

"With luminous, lyrical prose, Binary Star is an impassioned account of a young woman struggling with anorexia and her long-distance, alcoholic boyfriend. On a road trip circumnavigating the United States, they stumble into a book on veganarchism, and believe they've found a direction."
Not every book needs to be a masterpiece. If it were so, then there wouldn't be any pleasure in discovering uncommonly good books. For the most part, it is good enough for a book to merely know what it has set out to do, and to accomplish whatever that is in a capable manner.
Binary Star traces the codependent relationship of an anorexic astrophysics teacher and her alcoholic boyfriend. I say "traces" rather than "follows" because the reader is never allowed to deduce of him or herself what the subtext is. The outlines of every contour of every personality is writ in bold as characters' outlines are in cartoons. It's all tell and no show. This deficit is buried underneath layers of poetic prose and obfuscated by astrophysical metaphors that reveal the author's imperfect understanding of astrophysics. Strip away all of the nonsense, and you would be left with a compelling 40- or 50-page short story. Instead, we have 40 pages of poetry followed by about 120 pages of prose-poetry soup reminiscent of the drunken meandering of Stephen Daedalus in Ulysses without the benefit of James Joyce's genius.
This book, I presume, had the intention of putting a human face on the struggle of anorexia as it told its tale. However, Binary Star fails to facilitate a bond between the reader and the main character because, telling all and showing little, the book leaves the reader little room to engage her in the way that humans engage each other. We humans come to know each other by startling each other, revealing the mystery of our personalities one or several pieces at a time. There is no way for me to learn about you in a way that will get me emotionally involved if you present your life to me as a series of facts. The layers of poetry and metaphor do not change the fact that Gerard presents her characters to her readers as collections of facts rather than as dynamic, startling individuals.
The final wound on this novel is that the plot, being the strongest part of the tale, has so much difficulty finding its way out from under the heavy coats of language that it takes a back seat to the characters themselves, about who I seemed to know everything but feel nothing.
Gerard's potential as an author is extraordinary, but I believe that little more than the fact of that potential is on display in this effort. Although I had few positive remarks to offer about Binary Star, I will await the author's next effort.
Want your own copy? You can pick it up [easyazon_link asin="1937512258″ locale="US" new_window="default" nofollow="default" tag="gimmethatbook-20″ add_to_cart="yes" cloaking="default" localization="yes" popups="yes"]here[/easyazon_link].