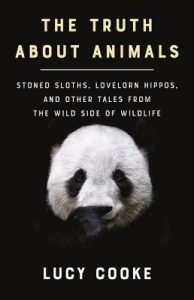 Mary Roach meets Bill Bryson in this "surefire summer winner" (Janet Maslin, New York Times), an uproarious tour of the basest instincts and biggest mysteries of the animal world

Humans have gone to the Moon and discovered the Higgs boson, but when it comes to understanding animals, we've still got a long way to go. Whether we're seeing a viral video of romping baby pandas or a picture of penguins "holding hands," it's hard for us not to project our own values–innocence, fidelity, temperance, hard work–onto animals. So you've probably never considered if moose get drunk, penguins cheat on their mates, or worker ants lay about. They do–and that's just for starters. In The Truth About Animals, Lucy Cooke takes us on a worldwide journey to meet everyone from a Colombian hippo castrator to a Chinese panda porn peddler, all to lay bare the secret–and often hilarious–habits of the animal kingdom. Charming and at times downright weird, this modern bestiary is perfect for anyone who has ever suspected that virtue might be unnatural.
Thanks to NetGalley for this review copy!
This book reads like it was written by the love child of Charles Darwin and Mary Roach. There is humor, pathos, and animal facts aplenty. The author's writing style is easy to read and captured my attention immediately. The love Cooke has for these beasties is quite obvious from the start. Hopefully, given the facts, others will learn to appreciate these maligned characters that occupy the animal world.
Each chapter is devoted (lovingly) to a misunderstood animal, where we find myths debunked through modern science. The reader will learn about sloths, bats, and hyenas, to name a few. The author will discuss how the animals were experimented on/studied over hundreds of years (Who knew that Aristotle was a proponent of spontaneous creation?) then get to modern times, where myths are debunked and the many reasons to love these animals are revealed.
Some of the experiments detailed can be a bit gory, such as when, in the 18th century, the Catholic priest Lazzaro Spallanzani practiced blinding bats in order to find out how they managed to find their way around in darkness. (He also coated them in varnish for another experiment, but I digress).  Other tales are edifying and satisfying, such as:
It may sound suspiciously like bogus medieval folk medicine, but from the 1940s through the 1960s the world's first reliable pregnancy test was a small, bug-eyed frog. When injected with a pregnant woman's urine, the amphibian didn't turn blue or display stripes, but it did squirt out eggs 8-12 hours later to confirm a positive result.
Cooke's book is full of factoids like that one. How can you not love this book? You will learn, you will laugh, and you will be full of obscure information. That sounds like a winner to me.
Yes, you want your own copy and can pick it up here.