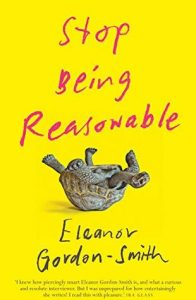 What if you're not who you think you are?
What if you don't really know the people closest to you?
And what if your most deeply-held beliefs turn out to be…wrong?

In Stop Being Reasonable, philosopher Eleanor Gordon-Smith tells gripping true stories that show the limits of human reason. Susie realises her husband harbours a terrible secret, Dylan leaves the cult he's been raised in since birth, Alex discovers he can no longer return to his former identity after impersonating someone else on reality TV. All of them radically alter their beliefs about the things that matter most.

What makes them change course? What does this say about our own beliefs? And, in an increasingly divided world, what does it teach us about how we might change the minds of others?
Inspiring, moving and perceptive, Stop Being Reasonable is a mind-changing exploration of the murky place where philosophy and real life meet.
'I knew how piercingly smart Eleanor Gordon-Smith is, and what a curious and resolute interviewer. But I was unprepared for how entertainingly she writes! I read this with pleasure.' — Ira Glass
Thanks to NetGalley for this ARC!
STOP BEING REASONABLE is a dense little book filled with philosophical musings on varied subjects such as why guys catcall, how someone escaped a cult, and if a girl is telling the truth about being abused by her parents. Each chapter starts with a couple of lines from philosophy that sets the tone for the case study, such as this one from Blaise Pascal: People almost invariably arrive at their beliefs not on the basis of proof but on the basis of what they find attractive.
Those who have a background in philosophy will enjoy this book for the anecdotes that illustrate various ways of thinking. My experience with philosophy is minimal, so I am sure a great deal of the material is going over my head. The stories about the people were mildly interesting, just not wholly captivating for me. Perhaps I expected different handling of the subject. This does not detract from the writing itself, just a caveat to potential readers that this is a heavier read than normal.
The author has a background in debate as well, and her skills are apparent in the way she writes and presents her facts. A common theme to all the stories is: examine closely what you expect to be true, for things are not what they seem to be.
Want your own copy? You can pick it up here.