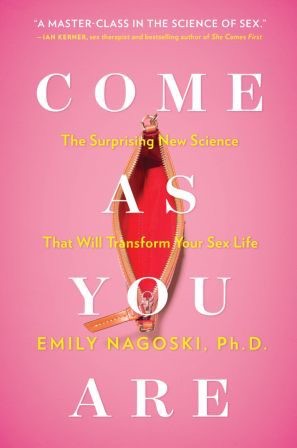 An essential exploration of why and how women's sexuality works—based on groundbreaking research and brain science—that will radically transform your sex life into one filled with confidence and joy. Researchers have spent the last decade trying to develop a "pink pill" for women to function like Viagra does for men. So where is it? Well, for reasons this book makes crystal clear, that pill will never exist—but as a result of the research that's gone into it, scientists in the last few year have learned more about how women's sexuality works than we ever thought possible, and Come as You Are explains it all.
I won this book through a Goodreads giveaway! Thanks to Emily Nagoski and Simon & Schuster for contributing the book in exchange for an honest review.
There are many books out there claiming to be the best source of knowledge about the female body; but this one is pretty much on the money. Nagoski talks honestly about what women experience, and why. Her tenet is: we are all alike, but different,  we are all normal.
Women may get their knowledge  from social media,  and therefore have an unrealistic image to live up to. Women may feel "broken" because their bodies don't react the way they think they should. This feeling is insidious and permeates the brain and hinders sexual pleasure.
Nagoski explains that women have a "brake" and an  "accelerator" and that they need to be aware of what hits them, in essence. She talks about "spectatoring" (thinking about yourself in a denigrating way during sex, effectively hitting your brake) and discusses how to love your body.
COME AS YOU ARE is an uplifting, celebrating, and positive book that all women should read.  The ideas she puts forth are simple, and she includes worksheets and questions in the book that the reader can use to help them along their journey to better self awareness.
The author includes a chapter on anatomy, which is very thorough and should educate even the most sexually aware person! She also debunks the myths that women's pleasure is secondary to men's, or that the purpose of a female is just to procreate. Her message gives women power on every page.
Intertwined with Nagoski's wisdom are 4 fictional women, each experiencing a different problem. As the book progresses, each woman's relationship progresses, concurrent with what the author is saying. This way the reader can see how the principles are applied in real life.
What makes this book different from other self help books is that the solutions are put forth for both the mind and the body. It won't matter if your sex drive is low or high,  as the tenets will make many women feel better, both about themselves and about what they feel. Education goes a long way, and this is the author's aim: to let women know they are normal, while teaching them why this is so. There can be no better message, especially in these times where the average female has a lot of negativity surrounding her. Every woman should read this book, then give it to their partner. There would be more happiness in the world if that occurred.
Want your own copy? You can pick it up [easyazon_link identifier="B00LD1ORBI" locale="US" nw="y" tag="gimmethatbook-20″]here[/easyazon_link].