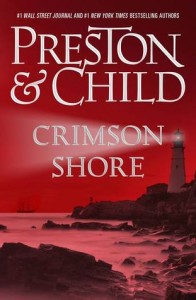 A secret chamber.

A mysterious shipwreck. A murder in the desolate salt marshes.

A seemingly straightforward private case turns out to be much more complicated-and sinister-than Special Agent A.X.L. Pendergast ever could have anticipated.

Pendergast, together with his ward Constance Greene, travels to the quaint seaside village of Exmouth, Massachusetts, to investigate the theft of a priceless wine collection. But inside the wine cellar, they find something considerably more disturbing: a bricked-up niche that once held a crumbling skeleton.
Many thanks to NetGalley for providing this ARC copy for review.
Pendergast almost turns this case down because he feels it's too pedestrian for him. But once he hears about the priceless wine being offered as payment, he decides to travel to Massachusetts after all.
He and Constance stick out like sore thumbs, skulking about and dressed in black, manipulating everyone in sight.   His sarcastic comments and glittering eyes will make every Penderpeep sigh with joy, and we see Constance's emotions stirred as well. There is an episode where the two of them share wine together, and I read it holding my breath. No spoilers here, though! (I'm actually not sure I want to see the two of them together, as I fear it may change my perception of both of the characters.)
One of Preston and Child's trademarks is the extensive research done to ensure the environment is described well, and CRIMSON SHORE is no exception. It was easy to hear the pounding surf and feel the sullen stares of the townspeople due to the stellar depiction of the desolate surroundings. There is a perfect balance of action, conversation, and description, just enough of everything to keep the plot moving forward and place the reader firmly in the salt marshes.
Constance is not happy to sit and wait for Pendergast to do all the work, as she takes on responsibilities of her own and helps things along by doing extensive research on the history of witchcraft that's endemic to the area.
That's when the plot veers off to the supernatural and violent. Almost all the loose ends are tied up when, suddenly new things appear and Pendergast must brave the marshlands to rescue Constance. This is where the suspense ratchets up quite a bit and things start happening quickly.
Earlier books had Pendergast sporting almost superhuman strength, and these last few show him in a different light. This one is no exception, as I was prepared to see him put up a good fight but suffer in the process.  There is the almost mandatory cliffhanger ending that draws in elements from other books, written deliberately cryptic to keep us all guessing.
I enjoyed this latest outing even though it got sidetracked to the supernatural. The spotlight is centered firmly on Pendergast and Constance here – with humor, suspense, witchcraft and even a cooking lesson, there is a great deal to get your mind around. Preston & Child are continuing to create quality work with consistency and no lack of interesting plotlines. Exactly what the doctor ordered.
Want your own copy? You can pick it up [easyazon_link identifier="1455525928″ locale="US" nw="y" tag="gimmethatbook-20″]here[/easyazon_link].