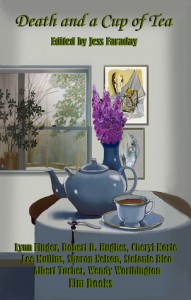 Elm Books is proud to present the fourth book in our mystery collection, with eight stories featuring a female sleuth and tea. Choose your brew carefully… some are comforting, others are deadly. But whether your style is English, Jasmine, Chai, Green, or Vanilla Cream there's bound to be a cup for everyone! The fourth mystery collection from Elm Books features female sleuths and protagonists from Elm Books veterans along with a few exciting newcomers. In these eight stories you'll find eight wide range of lovable characters. In "A Cup of Chai" Robert D. Hughes proves that detective work is more exciting than biology homework as a college student solves the mysterious murder of a local tea house owner. Professional sleuths in Lee Mullins' "Edith Jones Just Got Game" and Lynn Finger's "Fear on Eight Legs" solve crimes from Philadelphia to the far reaches of the galaxy. Tea is a civilizing influence and a key to answers both for the prim and proper Miss Wisner of Albert Tucher's "Miss Wisner Will Pour" and for a team of psychological researchers investigating an escaped mouse in Sharon Nelson's "Civility: Worth a Try When All Else Fails." And justice is on the menu in Stephanie Rico's "Extraordinary Happenstance", Wendy Worthington's "A Nice Cup of Homicide", and Cheryl Korte's "A Garden of Simples" as their heroines dish out boiling hot revenge with two lumps of sugar.
Thanks to Rachel at Elm Books for offering this advanced reader's copy!
A writer's call for a plot that included women and tea is the genesis of this collection of short stories. Each of them are written by different authors, thus different styles and genres. All the stories were written well, with only the plot leaving room for interpretation.
For me, knowing that the tea was the link sort of spoiled things for me a bit, as I was alert to the appearance of the beverage. Some inclusions were relevant to the plot, others a mere aside, that wouldn't even have figured on a reader's radar if not for the title.
"Civility" started out well, with humorous dialogue involving a laboratory mouse, but the ending was  rather abrupt, and not satisfying at all.
"Fear On Eight Legs" will give arachnid-fearing readers a chill and perhaps some nightmares, as a robot spider is sent to perform an errand.
"Miss Wisner Will Pour" was to me, the most erudite and well written story, with a plot that was completely plausible. The idea of proper librarians with dark secrets was delightful and refreshing, exactly like a well-brewed cup of, well, tea.
"A Cup Of Chai" seemed a bit implausible to me, and a bit too pat. Biology student turned sleuth was a good theory, but didn't hold my interest.
"A Nice Cup Of Homicide" was a story about four women trying to rid themselves of an annoying hanger-on to their afternoon club. The character of Kyra was evil and manipulative, but the idea of these women deciding that murder was the solution was hard to believe. How could they be so impotent in the face of a single person?
"A Garden Of Simples" was my second favorite story, I think. The main character planned out her deed thoughtfully and naturally, and the fact that it was under everyone's nose made it all the more pleasant to read.
Short stories hold so much promise, because if there is one that you don't enjoy, there will be another on your plate in a few pages. My time spent reading DEATH AND A CUP OF TEA was enjoyable and relaxing, without having to puzzle too hard over the mysteries contained within. This is a perfect little read for an afternoon, much like the proverbial teatime within each of the stories.
Want your own copy? You can pick it up [easyazon_link identifier="B00XLJ7F64″ locale="US" tag="gimmethatbook-20″]here[/easyazon_link]. This book will be published on August 1, 2015.