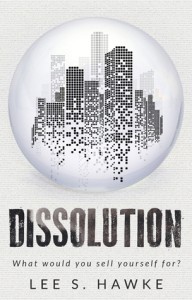 What would you sell yourself for?

Madeline knows. She's spent the last eighteen years impatiently waiting for her Auctioning so she can sell herself to MERCE Solutions Limited for a hundred thousand credits. But when the Auctioneer fails to call her and two suits show up at her doorstep, Madeline discovers there are far worse bargains to be made.

So when your loved ones are in danger, there's a bounty on your head and your entire city might turn out to be a lie… what would you sell yourself for?
Thanks to the author for this review copy! I had reviewed her other novel, DIVISION, so when she contacted me about this one, I immediately said yes. Hawke is a master of the dystopian genre, and this book is a wonderful, thrilling, well written bit of pleasure.
Madeline is a great protagonist: a girl coming to terms with the world around her, and losing her faith in things she believed were to be true. She is strong and capable, with a clear idea of what she wants from her life.
I loved the idea of the Auction – it almost seemed like a kinder, gentler version of Brave New World. As the corporations and their culture became clearer to me, I could easily imagine the future Hawke created. As in every dystopian novel, there must be the "others" – ones who shun the way of life and the rules. Madeline comes in contact with these, known as the corpless,  after she makes her escape, leaving the door open for a sequel. She learns that what she was told about these others is false, and is unsure who to trust – after all, there is a large reward for her capture that would have someone set for life.
The only suggestion I would have for the author is to share more details about the corporations earlier in the book – it was a bit confusing to see the names like MERCE and PERCO and DRAYTH without grasping the concept that they were all separate entities with extremely limited job offerings.
Other than that, I'd like to give the author kudos for writing a YA/dystopian novel without including teen angst and romance. Sometimes the science just has to stand on its own without dragging a love interest in there. Madeline can convey all the social commentary she needs to on her own, without being a lovesick teen.
The chapter with the river really made an impact on me. The idea of a city poisoning the water supply with chemicals, whether intentional or accidentally (due to poor care of the natural resources) seems truly apocalyptic. The description of what Madeline sustained after her near drowning was intense and thought provoking.
Other futuristic details include food with no taste (unless your taste sensors are on) and the ubiquitous collar that all citizens wear. This collar is used for some nefarious purposes, as the reader will discover.
DISSOLUTION was one of my favorite books this year so far. It's extremely well written, and more enjoyable than HUNGER GAMES. Madeline's world is not as dark as the HG one, but pretty close.
I'm hoping that there will be a part two to this novella, so I can see what happens to Madeline, and learn the future of the corporations.
This book is a must read! Go get your copy [easyazon_link identifier="B01DEGTLGK" locale="US" nw="y" tag="gimmethatbook-20″]here[/easyazon_link].