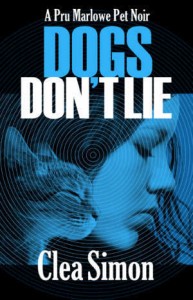 Pru Marlowe isn't your ordinary animal psychic. A tough girl on the run from her own gift, Pru left the big city to return to her picturesque Berkshires hometown looking for a little peace. Too bad that her training as an animal behaviorist got her mixed up with Lily, a rescue dog, and Charles, her person. Now Charles is dead, and   Lily looks good for it. After all, Lily is a pitbull, a fighting-ring   dropout, and way too traumatized to give Pru a clear picture of what she has witnessed. But Pru knows something about bad girls trying to  clean up, and, with a sense of justice strong enough to overcome her dislike of human society, she takes the case. Listening to the animals, Pru picks up clues–and learns there are secrets in the  pretty little town that make murder look simple. Unable to tell  anybody about her psychic abilities, uncertain at times about her own  sanity, Pru comes to realize that if she clears Lily, she'll likely become the prime suspect–or the next victim. While the only  creature she can totally trust is her crotchety tabby Wallis, Pru's  got to uncover the real killer–and find a way to live with her gift–before the real beasts in the town savage her and those she has come to love. The first in the Pru Marlowe "pet noir" series.
Thanks to the author for this review copy! When I met her at BookCon 2015, she was signing copies of two books. Fans got to pick which one they wanted and Ms Simon graciously shared a few words with each person as she inscribed their copy. I was intrigued, since I never heard of "pet noir", and knew right away I wanted to review this book.
Pru is an animal trainer who just happens to be able to "hear" thoughts in her head, thoughts that come from the animals around her, wild or tame. She's also hovering on the edge of misanthropy, a trait that has carried her through dark times in her past. The author alludes to Pru's past with tantalizing bits here and there, and the reader must put everything together, like a puzzle with a few missing pieces.
Pru's tabby cat Wallis, is a typical feline: reticent, self centered, and slothful. She sneeringly communicates with Pru in such a way that her comments seem disingenuous, until Pru makes the connection and it all makes sense. This was a bit hard to get used to in the beginning, until I realized it was being written intentionally in that fashion–I wasn't missing things due to lack of brain cells.
Simon's attention to detail in writing about Wallis' behavior is a joy to behold. She truly describes a cat's attitude, movements (Wallis "delicately splays a toe" while grooming herself) and complete disinterest; exactly like every cat I've ever known! Some of Simon's best writing is done as she leads the reader into the mind of various critters, such as ferrets, dogs and birds. It was so easy to believe their conversations and mannerisms were true renditions. Every little quirk of dogs sniffing trees or the flock mind of starlings was rendered perfectly. Perhaps this story written in a different way would have seemed surreal or silly. Not so here. I seamlessly moved through the story in a state of belief that yes, Pru could hear these thoughts and the animals could pick hers up as well. No cartoonish Dr Doolittle thing going on here—-this is excellent writing.
The author can render people well too: the tippling town gossip, the sweet talking bad boy, the vapid gum snapping kennel attendant are all easy to picture. And let's not forget about the plot. There is drama, suspense, and lots of red herrings. Absolutely delightful.
I had a fun time reading DOGS DON'T LIE. It sounds like Ms Simon had a fun time writing it too. I'll be picking up more of her work in the future.
Want your own copy? Do yourself a favor and read this. You can pick it up [easyazon_link identifier="B0056KOCZ8″ locale="US" nw="y" tag="gimmethatbook-20″]here[/easyazon_link].