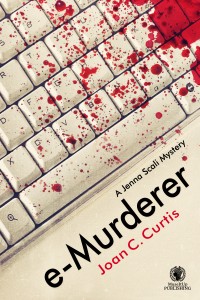 e-MURDERER is a race to find a psychotic killer before he kills again.
On this anything but typical Monday morning Jenna Scali, who works part-time for a shrink, opens an email that depicts the brutal death of a young girl. On that same day the police uncover a dead coed two blocks from Jenna's house. The e-murderer's description creepily echos the death described in the newspapers.
Thanks once again to author Joan C. Curtis, who also wrote THE CLOCK STRIKES MIDNIGHT, for gifting me this book for review.

Jenna Scali is a reluctant participant in the events taking place around her. She gets an email out of the blue that describes a murder, and thinks nothing of it. But when the emails keep coming, and the body count around her starts rising, she realizes that the common thread is her and she's got to do something before she's the next victim.
The tone of E-MURDERER is different from CLOCK in that it's a bit lighter –  the main character hasn't got a time limit of three months left to live – and so that sense of urgency isn't in the forefront. However, Curtis does a great job of creating drama with a light hearted touch by including her wonderful Southern humor.  For example: Jenna's friend and co-worker Starr says  (about digging through patient files on the down low) "We can go through these files like my mama used to go through my diary". Curtis is also a master of describing odious characters clearly, with descriptions that will have you cringing (oniony breath, yellow teeth–ugh!). It's always easy to develop a picture in your mind when you read her books, which is a quality I value in an author.
Jenna's pal Starr is a true outspoken Southern girl and tells Jenna the truth with no holds barred. I just loved all her pithy sayings and sassy attitude. Compared to Starr, I found Jenna a bit wishy washy, when she kept hesitating to go to the police because she didn't want to cause trouble at her job by possibly violating patient's privacy. I also wondered at her boss's seeming lack of concern for Jenna. He seemed mildly interested for a few moments whenever Jenna would try to explain things and talk about murder, then he would brush her off and resume work. I began to get frustrated with both him and Jenna for being so passive. Eventually the danger becomes too much to handle for Jenna and she is off and running, taking matters into her own hands despite her fears.
Plot twists begin to pop up towards the middle of the book, and the action picks up. Jenna begins sleuthing in earnest, and starts to develop feelings for the handsome policeman handling the case. She is also trying to convince her boyfriend that she needs more space, a concept he is having trouble grasping. Once again, Curtis' character development is dead on, as the clingy boyfriend becomes more and more irritating.
Some of the supporting characters start to appear guilty, but it will not be obvious who the e-murderer is until you get near the end. Curtis gives you just enough information to tantalize you with a hint of suspicious behavior, and then another character seems like a better candidate!
Always enthralling and often amusing, E-MURDERER is another fun and fast read. Want your own copy? You can pick it up [easyazon_link identifier="B013GR330M" locale="US" nw="y" tag="gimmethatbook-20″]here[/easyazon_link].