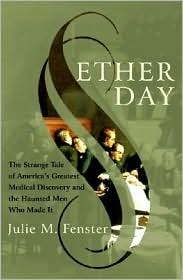 Ether Day is the unpredictable story of America's first major scientific discovery — the use of anesthesia — told in an absorbing narrative that traces the dawn of modern surgery through the lives of three extraordinary men. Ironically, the "discovery" was really no discovery at all: Ether and nitrous oxide had been known for more than forty years to cause insensitivity to pain, yet, with names like "laughing gas," they were used almost solely for entertainment. Meanwhile, patients still underwent operations during which they saw, heard, and felt every cut the surgeon made. The image of a grim and grisly operating room, like the one in Mary Shelley's Frankenstein, was in fact starkly accurate in portraying the conditions of surgery before anesthesia.

With hope for relief seemingly long gone, the breakthrough finally came about by means of a combination of coincidence and character, as a cunning Boston dentist crossed paths with an inventive colleague from Hartford and a brilliant Harvard-trained physician. William Morton, Horace Wells, and Charles Jackson: a con man, a dreamer, and an intellectual. Though Wells was crushed by derision when he tried to introduce anesthetics, Morton prevailed, with help from Jackson. The result was Ether Day, October 16, 1846, celebrated around the world. By that point, though, no honor was enough. Ether Day was not only the dawn of modern surgery, but the beginning of commercialized medicine as well, as Morton patented the discovery.

What followed was a battle so bitter that it sent all three men spiraling wildly out of control, at the same time that anesthetics began saving countless lives. Meticulously researched and masterfully written, Ether Day is a riveting look at one of history's most remarkable untold stories.
Thanks to the author for gifting me this book for review!
ETHER DAY is meticulously researched; the characters are brought to life via the detailed descriptions of their lives and mental states.
To think that people were operated on with no care for their pain, yet Laughing Gas (ether) was used by non medical people for fun and escape, is mind boggling. No one made the connection between the two until William Morton, Horace Wells, and Charles Jackson "discovered" the other uses of this gas.
The fact that these three men's lives overlapped was both good and bad: the discovery of ether as an anesthetic made both patient's and surgeon's lives better, but there was a lot of vitriol and ego involved as well. Each stood to make his fortune via ether, yet their lives were not always brightened by their actions.
Fenster has clearly done her research: there is both an index and endnotes, showing the comprehensive reading she did to recreate this story. She also includes a bibliography for further reading. The 1800's come to life under her expert prose and background detail. I especially enjoyed the explanation of how the gas was delivered, and how the machines were tinkered with to provide a more accurate mixing of gas and air. The fact that these men experimented on themselves shows both folly and determination – in Chapter 14, Chlory, there is a section about scientists sniffing different concoctions of gases to figure out the best combination.
Every Thursday evening they would gather at the Simpson home, sitting around the dining table to inhale candidate chemicals. "I selected for experiment and have inhaled several chemical liquids of a more fragrant and agreeable odor," Simpson wrote in a medical journal during the course of his research, "such as the chlorine of hydrocarbon, acetone, nitrate of oxide of ethyle, benzin, the vapour of chloroform, etc."
One old friend, a professor named Miller, made a habit of dropping by at breakfast time every Friday, so he said, to see if anyone was dead. 
The lengths these men went to in the name of science is unheard of today. As the book jacket notes, Ether Day is a little known anniversary, yet without the actions of these men there would have been greater suffering in this world. They were not heros, either – just men trying to make money or a name for themselves, who fell into a bizarre chain of events that would send them all down a crazy rabbit hole and eventually break them.
Author Julie Fenster has brought the memory of these men out of the past and placed it firmly into our awareness with ETHER DAY. I commend her for choosing her subject wisely and keeping this discovery relevant, in a new way.
Want your own copy? You can pick it up [easyazon_link identifier="0060933178″ locale="US" tag="gimmethatbook-20″]here[/easyazon_link].