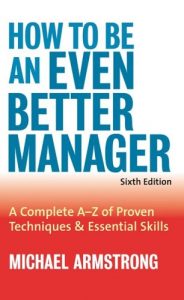 This new edition of How to be an Even Better Manager covers 50 topics organized into three key areas in which every manager needs to be competent: managing people, managing activities and processes, and managing and developing oneself. With new chapters on how to learn, achieve continuous improvement, foster engagement, make a business case, and prepare a business plan, this is an up-to-date handbook for existing and aspiring managers.
How to be an Even Better Manager provides sound guidelines that will help readers develop a broad base of managerial skills and knowledge and build on existing skills. Even the most experienced manager needs to keep abreast of new developments and brush up on essential skills. This new edition will continue to be a valuable aid.
Thank you to NetGalley for providing this ARC in exchange for an review!
New managers are inundated with books to read and advice from well meaning coworkers. Sometimes it's hard to figure out the best use of your time and which books to read. HOW TO BE AN EVEN BETTER MANAGER is not a new book per se; it's been updated and modernized for today's work world. The original edition has sold over 170,000 copies worldwide, so you know this is advice that gets results.
Wondering how to promote a learning culture? How to have those difficult conversations with an underperforming associate? How to gain confidence and engage your team? This book has those answers, and more!
There are 5 sections: Managing People, Developing People, Management Skills, Personal Skills, and Business and Financial Management. Armstrong provides a guideline for the new and seasoned manager alike by putting forth situations (something went wrong, here is how to fix it) in simple language with reasons why this works.
Another great thing about this book is that you don't have to read it from chapter to chapter – you can pick and choose what you need to know and get to that section quickly. The sections are not overly long and are digested easily.
The final chapter gives an overview of reading balance sheets, financial ratios and what they are used for. I found this wonderful because a lot of beginner management books never touch on the money aspect of things; they just show you how to be more of a people person.
Taking a few moments each night to read a few pages at a time will help fledgling managers immensely, as well as encourage "old hats" to try some new things and think outside the box.
Want your own copy? You can pick it up [easyazon_link identifier="0749471549″ locale="US" nw="y" tag="gimmethatbook-20″]here[/easyazon_link].