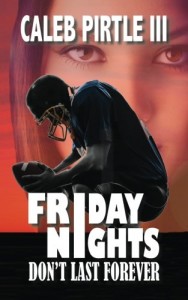 The dream of college football propels Casey Clinton into the best and worst times of his life. On Friday nights in Avalon, Alabama, football reigns supreme. Quarterback Casey Clinton's magic arm drives recruiters and his opponents wild. Girls worship him. A preacher's wife seduces him. Life can't be any better. But when slick college football recruiters offer the small-town high school player the chance for fame and glory, it's no longer a game. It's business. And it's brutal. Lavish promises of money, women, and a spot at the top of the football world take Casey into a violent world he could never imagine. Temptation is great. His life spirals out of control. His world crumbles out from under him. Football is no longer a sport. It's a fight for survival in a game where everyone but Casey knows how to play.
Many thanks to All Reviews Matter for gifting me this book for review!
Many things make this book a winner.
The first is the authentic Southern atmosphere that pervades every word and scene of FRIDAY NIGHTS. You can hear the drawl in the voices, and sense the underlying desperation of the players as they worship the only god they know – football.
Second is the multi layered character development – of Casey, Chelsea, Lucas, and the attitudes and actions of the rest of the townspeople. The pressure that is put on these confused teenagers is immense, and is echoed all over the South on any given Friday. The author knows this, and uses it to his advantage to create a deeply moving story that uses contrasting backgrounds to spin the plot forward.
These characters could have been easily written as a stereotype – but Pirtle makes them so much more. He makes them earnest and believable, easy to root for and to hate. Some characters, like Lucas, force you to vacillate between emotions: sadness because of his upbringing, scorn because of how he treats others.
Third is the fascinating backdrop of the cutthroat world of college football. Reading about Casey getting call after call from colleges promising him everything while denigrating other schools in the same breath made me realize just how much manipulation is done in the name of a winning season.
The author's writing style is clean, yet raw – no extra words or filler here, just emotion, suffering and hope. It didn't take me long to become immersed in the microcosm of Avalon, Alabama.
Especially cringe-worthy is the scene where Casey meets the great Alabama coach Frank Hatchett at the airport, thinking he is always at the forefront of Hatchett's mind. The coach's asides to his traveling companions show just how far from the truth his (and other coaches') machinations can be. I felt truly naïve after reading this – and will never be able to watch college football again without thinking of this book.
Think of this as a companion to the classic movie ANY GIVEN SUNDAY, and likewise the classic novel FRIDAY NIGHT LIGHTS. Life can be excruciating when you see only one chance to make your life matter – and the choices you make in order for that to happen can be unforgiving.
This book was thoroughly enjoyable – you can grab your copy [easyazon_link identifier="1940460387″ locale="US" nw="y" tag="gimmethatbook-20″]here[/easyazon_link].