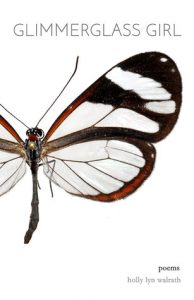 Glimmerglass Girl is a collection of poetry and images about womanhood and femininity. This debut collection from author Holly Lyn Walrath explores life, love, marriage, abuse, self-harm, the body, death, and alcoholism through the lens of a woman's heart. It takes readers through a speculative and fantastical world of fairy tales and unicorns where femininity is as powerful and delicate as a glass-winged butterfly.
Thanks to NetGalley for this ARC!
This thin chapbook of poems seems at once light and dark, brilliant yet incomprehensible. I read through each offering twice and came away no wiser, despite preparing myself to find meaning in the words. A poem that begins "I am night and a thousand stars hurtle through/my skin, punching through the ether" sets the reader up for a powerful experience. It's over a few short paragraphs later, a story not tied up neatly, only words and a mental picture that creates an unsatisfactory feeling. Not unsatisfactory in a bad way – just a longing for something more to grasp, a clearer picture of sorts.
The author does have a way with words, stringing them together like a delicate necklace that has its own beauty, yet doesn't match with anything in the closet. That is not to say it is a wasted purchase -understand that these poems may not meet with your expectations. They are an acquired taste, revealing more each time they are read. Two particular poems became my favorites: I Swallowed the Moon and Blue Cadillac. I feel that Cadillac is the most mainstream work, easily understood, with fondness for the title character (?) shining through easily. I too, remember the classic cars with wistful nostalgia, as the poem notes:
And somehow in this memory of you/your massive lines like some primordial behemoth/long since dead and buried/in ice, the very blueness of you, I may have/remembered myself, another classic beauty.
It was so easy to conjure up big fins in the Texas heat as I absorbed this poem. Images formed freely in my head, unlike some of the author's other writings in this book. Sometimes the final lines give off a hint of sarcasm, of impropriety or dismissal; other times the end is so far away from the beginning you don't know what to think. There is a strong undercurrent of feminism and heartbreak in the words, and at times I wondered what experiences the author had, to describe in such a way.
All and all, not the worst way to spend time reading. Poetry is more resonant with people; either you love it or hate it. This little book was pleasant to read, despite the fact that I came away from most of it confused. Read it and let me know what you think.
You can get your own copy here.