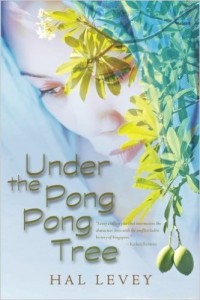 "The Japanese invasion of Singapore sets the backdrop for this World War II saga of loyalty, love, and the promise of liberation. Under the Pong Pong Tree by Hal Levey delves into the brutality of foreign occupation from a woman's perspective, allowing a candid portrayal of a war victim to emerge from the pages of this gritty chronicle. . . .The prose is sensitive, knowledgeable, and empathetic, covering intriguing topics across an extensive time line." -Clarion Review 5 stars

"This utterly compelling historical novel revolves around several characters whose lives have been irrevocably changed and, for the most part, damaged, by the WWII Japanese invasion of Singapore. . .The plot moves quickly with continuing storylines of many characters, and the writing and editing is flawless. Under the Pong Pong Tree will be enjoyed by a wide readership, particularly those who appreciate a fast-paced, realistic tale of war, survival and, ultimately, redemption." -Blue Ink Starred Review

Love and the brutality of war are woven together in a beautiful, heart-wrenching tapestry in Under the Pong Pong Tree.
Thanks to Publishing Push and the author for helping me create this guest post! UNDER THE PONG PONG TREE is a wonderful, character-driven novel about love and war. Here, author Hal Levey tells us how everything came to be:
Under the Pong Pong Tree was incubated long ago during a year spent as China Medical Board Visiting Professor on the medical faculty of the National University of Singapore. The eponymous pong pong tree of Southeast Asia also is called the suicide tree. It is intended as a metaphor for the cruelty suffered by the Chinese residents of Singapore under the heel of the Japanese during World War II. I kept a journal that became a background resource. I also met many colleagues who suffered under Japanese brutality. Nevertheless, the year in Singapore was an exhilarating experience. I did a certain amount of recreational jungle bashing upcountry in Malaysia, and befriended the RAF contingent at the Seletar Air Base in Singapore. I became close friends with Squadron Leader Darrol Stinton, MBE, and joined him and the RAF Seletar Sub-Aqua Club on an expedition to Pulau Perhentian (Perhentian Island) in the South China Sea. The purpose was to develop sea rescue capabilities for airmen lost at sea. The job previously was done by the Royal Navy, but, for some reason, they terminated such operations and the RAF was obliged to create their own system.
The airmen made me Honorary Member No. 1 of the club, but harbored the faint suspicion that I was a CIA plant. Darrol died in 2012 from a hospital-borne infection at a military hospital in London. He was there for surgical replacement of titanium rods that supported his spine, stress-fractured from his years as a test pilot for the RAF. I brought him back to life in my book as Squadron Leader Darrol Stanton. I also borrowed Chinese and Malay names of individuals I had met as characters in my book.  I did this to avoid inventing ethnic names that might inadvertently have had a lewd context.
The novel started to come to life when I spent a summer month in the Caribbean, lecturing to pre-med students at St. Georges University on the island of Granada. This was a pleasant diversion, and St. Georges relied on visiting faculty, mainly from Australia, India, and the USA. Part of my stipend was a room at a first-class hotel perched on a glittering white sandy beach. I delivered lectures in the morning, and spent the afternoons sipping rum punch at a tiki bar next to the hotel. Sitting on a bar stool with time on my hands, I started to scribble an outline in pencil on a yellow legal pad. I started with the setting and then populated it with my characters. Eventually they wrote their own stories and I merely transcribed them. After much picking up and putting down of the manuscript over several years, it ultimately emerged as Under the Pong Pong Tree. The first draft ran to about 185,000 words, but I chopped it down to 78,000 words in the final version.
It is a gripping story that also bears elements of a cautionary tale. In the book, the Japanese are portrayed as brutal and pitiless in their treatment of the Chinese residents of Singapore. They executed thousands and practiced decapitation almost as an art form. Today we view the Japanese as a tidy little people, hard-working, and steeped in their quaint cultural traditions. The other naughty nation, Germany, has emerged from the horrors of Nazism to become an economic powerhouse. One might wonder what the future holds for brutal regimes of the present day?
I am unaware of literary influences that have helped me along the way – although there must be some. I tend to write from the omniscient viewpoint, with little interest in the machine-gun conversational style of the contemporary best-seller. Nor do I have an affinity for the current obsession with zombies or mutated mosquitoes the size of Greyhound busses. I lost interest in fairy tales when I was about eight years old. Although, now that I think about it, I have toyed with the idea of writing a story about a hemophobic vampire. If I have a favorite author, it might be Archy, the poet reincarnated as a large cockroach, who held frequent conversations with Mehitabel, a morally ambiguous cat who claimed to be the reincarnation of Cleopatra. Mehitabel maintained her zest for life, proclaiming "there's a dance or two in the old dame yet." Archy typed messages to his boss, Don Marquis, by diving headfirst onto the keys. The messages understandably all were in lower case and lacked apostrophes. That did not disturb the editors of the New York Sun, who were happy to publish Archy's messages in their daily edition.
As to the future: I might follow up with a prequel to Under the Pong Pong Tree, but only if a readership emerges from the underbrush. Otherwise, I shall move in another direction – yet to be determined.
I am currently involved in the puzzling procedure called marketing. I won't bore you with the details, but, if you write a book, you want it read. Of course, I also might call your attention to Boswell's quote from Samuel Johnson: "No man but a blockhead ever wrote, except for money." Undiscovered authors are advised to refrain from such flippancies until THEY beg you to sign a major contract. Until then, we must be content to write because we are unable to not write.
Here are excerpts of excellent reviews of my book, by Clarion and Blue Ink:
"The Japanese invasion of Singapore sets the backdrop for this World War II saga of loyalty, love, and the promise of liberation. Under the Pong Pong Tree by Hal Levey delves into the brutality of foreign occupation from a woman's perspective, allowing a candid portrayal of a war victim to emerge from the pages of this gritty chronicle. …The prose is sensitive, knowledgeable, and empathetic, covering intriguing topics across an extensive time line."
—Clarion Review 5 stars
"This utterly compelling historical novel revolves around several characters whose lives have been irrevocably changed and, for the most part, damaged, by the WWII Japanese invasion of Singapore….The plot moves quickly with continuing storylines of many characters, and the writing and editing is flawless. Under the Pong Pong Tree will be enjoyed by a wide readership, particularly those who appreciate a fast-paced, realistic tale of war, survival and, ultimately, redemption."
—Blue Ink Starred Review