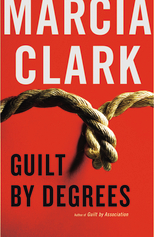 In this second outing for Los Angeles DA Rachel Knight, she becomes the champion for a homeless man that is murdered in broad daylight. No one is interested in taking the case, so she steps up. The case quickly becomes a hotbed of intrigue, as Knight discovers that it shares aspects of another case–that of a murdered policeman. In between eating at every local restaurant, and drinking into the night, Rachel and trusty sidekick Bailey uncover layer after nasty layer. No one is who they appear to be, and there is a character that has potential for an appearance in another future book.
The plot is interesting. Less interesting is the constant dialogue between Rachel and Bailey about food, booze, and calories. I'm just skimming over those parts to get to the juicy stuff. Clark is a good writer, but spends too much time filling the book with descriptions of clothes and food. It's not enough to turn me off, however, and I'll be reading the next two books in the series.
Want to get a copy for yourself? You can pick it up here.