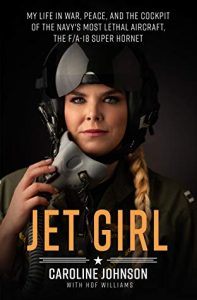 A fresh, unique insider's view of what it's like to be a woman aviator in today's US Navy—from pedicures to parachutes. 

Caroline Johnson was an unlikely aviation candidate. A tall blonde debutante from Colorado, she could have just as easily gone into fashion or filmmaking, and yet she went on to become an F/A-18 Super Hornet Weapons System Officer. She was one of the first women to fly a combat mission over Iraq since 2011, and she was the first woman to drop bombs on ISIS.

Jet Girl tells the remarkable story of the women fighting at the forefront in a military system that allows them to reach the highest peaks, and yet is in many respects still a fraternity. Johnson offers an insider's view on the fascinating, thrilling, dangerous and, at times, glamorous world of being a naval aviator.

This is a coming-of age story about a young college-aged girl who draws strength from a tight knit group of friends, called the Jet Girls, and struggles with all the ordinary problems of life: love, work, catty housewives, father figures, make-up, wardrobe, not to mention being put into harm's way daily with terrorist groups such as ISIS and world powers such as Russia and Iran.

Some of the most memorable parts of the book are about real life in training, in the air and in combat—how do you deal with having to pee in a cockpit the size of a bumper car going 900 miles an hour?

Not just a memoir, this book also aims to change the conversation and to inspire and attract the next generation of men and women who are tempted to explore a life of adventure and service.
Thanks to NetGalley for this ARC!
This book is a generally well-written memoir about an F/A-18 Super Hornet Weapons System Officer, who happens to be a woman. The military information is just what you would expect: training, the mental game, and some unclassified deployment details. The part of the book that really hits home is the harassment and treatment Caroline gets from her own squads – the men that are supposed to be supporting her, while they expect her support as well. The Navy wives even vilify her and call her out for wearing a "too revealing" dress to a party.
I admire Caroline for putting up with all the slurs and backbiting gossip. It's a shame that someone with such drive, talent and patriotism should be dealing with such petty bullshit. Most of her fellow recruits treat her normally; it's the few bad apples as usual spoiling everything.
JET GIRL skips around from chapter to chapter, telling us Caroline's story from first days in the Navy all the way up to being deployed in Iraq. The chapters do not proceed sequentially; once you realize that and are ok with the story skipping back and forth, the reading smooths out. The story turns a lot darker when Caroline shares her battle with depression with us. I cannot imagine staying in the Navy as long as she did, nor can I believe how badly she was treated despite excelling in her classes and as a pilot. Unfortunately, she decided to change careers to ultimately save her sanity, which I feel is the Navy's great loss. She started to realize the stress that her body was under due to the strain of deployment even before her aircraft carrier had left the Persian Gulf. She began isolating herself once she got back to the States and was told by the flight doctor to "man up…and stop being a drama queen".
At this point the story got very frustrating for me, as I felt Caroline's pain and wanted to scream at all the men that this was a real issue and deserved the proper attention. I could not believe what she was writing – that she was not properly supported by her commanding officers and her squad. The rest of the book details her downward spiral and her "icing out" by her commanders and crew, along with her guilt and confusion about what she should do with her life – leave the Navy or try to stick it out.
The last section is an excellent example of what depression looks and feels like. Poor mental health carries such a stigma in this country and I am happy Caroline had the courage to bare her soul and share her story. Her message is important on many levels – her depression, the mistreatment she experienced, and her love for the Navy all come together in an illuminating and meaningful way. I can only hope that she has smoothed the way for other female Navy pilots with her no-holds-barred examples of how she was treated. Let's see if the Navy can make the future better than its past.
You can pick up your copy here.