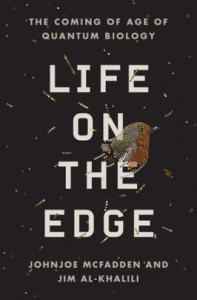 Life is the most extraordinary phenomenon in the known universe; but how did it come to be? Even in an age of cloning and artificial biology, the remarkable truth remains: nobody has ever made anything living entirely out of dead material. Life remains the only way to make life. Are we still missing a vital ingredient in its creation?

Like Richard Dawkins' The Selfish Gene, which provided a new perspective on how evolution works, Life on the Edge alters our understanding of our world's fundamental dynamics. Bringing together first-hand experience at the cutting edge of science with unparalleled gifts of explanation, Jim Al-Khalili and Johnjoe Macfadden reveal that missing ingredient to be quantum mechanics; the phenomena that lie at the heart of this most mysterious of sciences.

Drawing on recent ground-breaking experiments around the world, each chapter in Life on the Edge engages by illustrating one of life's puzzles: How do migrating birds know where to go? How do we really smell the scent of a rose? How do our genes copy themselves with such precision?Life on the Edge accessibly reveals how quantum mechanics can answer these probing questions of the universe.

Guiding the reader through the rapidly unfolding discoveries of the last few years, Al-Khalili and McFadden communicate the excitement of the explosive new field of quantum biology and its potentially revolutionary applications, while offering insights into the biggest puzzle of all: what is life? As they brilliantly demonstrate in these groundbreaking pages, life exists on the quantum edge.
Every non-fiction title must match the rigor of its investigative narrative to the weight of its message. Here is a book that seems to herald a brave new world of possible technology and depth of understanding, brought to us by the field of quantum biology. I harbor little skepticism that the authors' chosen field of study will bring to bear significant impact upon everyday life and scientific conquest of the unknown alike. I am, however, perturbed by the willingness, even giddiness, of the authors to extend their findings into areas of study not directly related to their work, dispensing entirely with intellectual rigor in favor of the eye-catching pizazz of a History Channel or TLC docuthriller.
I wish that I could be kinder to this book, but I can't. In my relatively short life, I've watched worthwhile institutions (from the Smithsonian Institute to just about every news broadcast on the tube) turn into entertainment media. What makes this book part of that media is that its takeaway is a romantic image of a scientific future and a mysterious universe, rather than the science itself. The viewer of a modern Discovery Channel program, for example, often concludes a viewing experience feeling entertained, confusing this "entertained" feeling for the feeling of having learned something. The dynamics that propagate this kind of confusion are all present in Life on the Edge:
-Examples overstay their welcome, explaining the same thing multiple ways, and appealing to different emotions each time rather than to different features of the thing being explained
-Being overly numerous, the examples replace a dearth of content and context with a breadth of verbosity.
-Phrases such as "It could be the case that…" and "Perhaps [subject] could even…" are used to extend verifiable claims grossly beyond the limits of reasonable speculation, and into a land of pure imagination. This would be fine, of course, if it did not happen in a book written by two highly credible and accomplished scientists whose word many will take as gold. By trying to extend the appeal of this book to those who are not fascinated by the wonder of the quantum world alone, the authors risk alienating those who are, their core audience.
I would recommend this book to someone who has no prior knowledge of what the phrase "quantum mechanics" means, perhaps hoping that the hyperbole it contains might ignite his or her fascination. Some say that this is a valid way to spark interest in people. However, I have always found this method to be demeaning to those upon whom it is used, like using the prospect of a career as an astronaut to entice children to become interested in the cosmos. Visionary public scientists like Carl Sagan wouldn't treat children this way, which is partially why he is still beloved today. Other public scientists who hope to have a positive impact need to follow suit.
I received this book from Blogging For Books in exchange for this review. Want your own copy? You can pick it up [easyazon_link identifier="0307986810″ locale="US" nw="y" tag="gimmethatbook-20″]here[/easyazon_link].