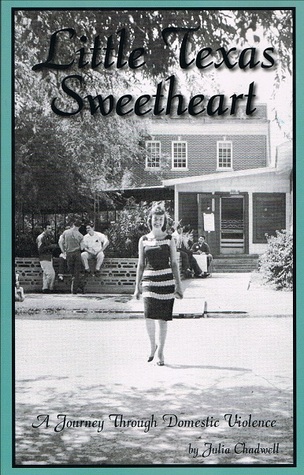 Little Texas Sweetheart is the gripping story of one woman's spiritual, mental, and physical journey across America. The book takes you through the terror of domestic violence and abuse. The story of how she and their eight children escape to a free and healthy life is a hair-raising page-turner. The book is a chronicle of the advance of women's rights in America.
I had the pleasure of meeting the author at BookCon 2015. Her story was so compelling I asked for a review copy, and she was gracious enough to give one to me. Thanks, Julia!
EXCERPT:
On a cold morning in Northern Florida, I am sent into a pancake house to ask if they could give us some food.  The manager looks at me as if I am a cur dog.  He looks out the window and sees three little cold, hungry waifs standing by an old jalopy.  Then he sees Ronald in his Army field jacket, stocking cap, and long red beard.  He winces and turns to me sighing.
     He says, "Bring the children in.  I will feed them, but not you.  I won't even let him come in here."
     I bring the children into the fragrant warmth and seat them on high stools at the counter.  I watch their eyes light up as the waitress brings them plates stacked high with golden pancakes.
     As they begin to eat, a gentleman customer steps up to the counter and says, "I'd like to buy breakfast for the lady."
 Written in an unassuming style and full of raw emotion, LITTLE TEXAS SWEETHEART is an eye opening account of domestic violence and despair. I could not read this book more than a few chapters at a time, as the events described depressed and angered me. Hearing of precious possessions broken and thrown away, slaps and punches doled out, and Ronald's viselike grip on the freedom of the family was just too much to take in large doses.
I actually had to re-read the passage when the police came to the house to see if everyone was all right, and left without doing anything. One of the officers even admonished one of the author's children, saying "Daddies do that sometimes"–explaining that sometimes women have to get slapped to keep them in line. The times were so different then, and women truly had no rights.
Picture a woman with 3, 4, then 5 children in tow, living in a car or on a dirty campground, begging for food and clothing, washing that clothing by hand and trying to maintain a brave front. Now imagine that same woman being told that things were "her fault for being a bad mother and wife".
Victims of domestic abuse are often people with no self confidence and a history of abuse during childhood. They may think that things truly are their fault and they are powerless to make a change. My heart went out to Chadwell time and time again, as Ronald would sweet talk her after a beating, or promise that "this time" they would stop moving from city to city, in search of the perfect job and living arrangements.
Make no mistake–this woman was no dummy. She got multiple degrees and became a teacher, and was always on the lookout for simple ways to educate and entertain her own children. Who knows where she would have made her way in the world if things were different?
Imprisoned by her own shame at the failure of her marriage, she stayed with her husband and endured years of abuse. This story matter of factly tells us how she prayed for help; sometimes her God helped her, sometimes not.
Particularly enlightening to me was the emphasis on how different things were in the 50's and 60's: domestic disturbances were the norm, almost expected, and were treated as minor things. Women were considered secondary citizens and sometimes "needed" to be kept in line, and the manly policeman apologized to the Man of the House for bothering him with a silly thing like an unexpected visit.
Chadwell makes no apologies for what she endured; at the end of the book she realizes that she is a battered woman with no self esteem, and that there are many others like her. She finally builds a support system and finds her backbone.  What a relief to be rid of the evil Ronald!
I guarantee you will feel outrage, disgust, and pity for this poor woman who wasted so many years of her life being miserable and downtrodden. Her goal in writing this book and exposing her shame was to help others in her position. When I spoke to her at BookCon, she was a lovely, well spoken, and kind individual, who gives no outward scars of her ordeal.  She has a strong faith in God and just wants to move forward and be happy.
This is a story I'll not soon forget, nor will I ever forget Ms. Chadwell.
Want your own copy? You can pick it up [easyazon_link identifier="0615410731″ locale="US" nw="y" tag="gimmethatbook-20″]here[/easyazon_link].