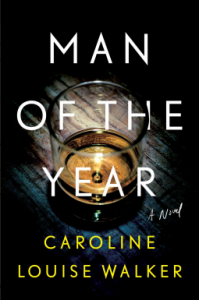 Beware the Man of the Year. You may praise him, resent him, even want to be him: but beneath the elegant trappings that define him, danger looms. Caroline Louise Walker's stunning debut novel, for fans of Herman Koch's The Dinner and Shari Lapena's The Couple Next Door, delves into the increasingly paranoid mind of a man whose life as the most upstanding of citizens hides a relentlessly dark heart.

Dr. Robert Hart, Sag Harbor's just-named Man of the Year, is the envy of his friends and neighbors. His medical practice is thriving. He has a beautiful old house and a beautiful new wife and a beautiful boat docked in the village marina. Even his wayward son, Jonah, is back on track, doing well at school, finally worthy of his father's attentions. So when Jonah's troubled college roommate, Nick, needs a place to stay for the summer, Hart and his wife generously offer him their guest house. A win-win: Jonah will have someone to hang with, and his father can bask in the warm glow of his own generosity.

But when he begins to notice his new houseguest getting a little too close to his wife, the good doctor's veneer begins to crack. All the little lies Robert tells—harmless falsehoods meant to protect everything he holds dear—begin to mount. Before long, he's embroiled in a desperate downward spiral, destroying the lives that stand in his way. It's only the women in his life—his devoted office manager, his friends, his wife—who can clearly see the truth.

Biting and timely, Man of the Year races along at an electric pace, with a wicked twist that you won't see coming.
Thanks to NetGalley for this ARC!
Fans of unreliable narrators – get ready to love this book. Each character looks out for himself (some more than others), tells lies, and behaves oddly, and they all desperately want to avoid punishment for the tragedy that happens in the latter half of the book. The author is generous with tropes (narcissism, infidelity, money, desperation) and it mostly works to create this sometimes fast-paced story. I was not sure if I hated or felt sorry for the main character, the eponymous Man of the Year.
The author is skilled at creating circumstances that change with perception. Each chapter is told in the point of view from each character, so the disconnect between perception is magnified. Some characters get to speak only once, which is jarring. I had to think for a moment or two when a minor character took over the narration. Some of these narrators are never heard from again; they tell their story just for the reader to see things from yet another angle.
Dr. Hart is a tragic figure, cuckolded by his son's friend, who is staying with the family over the summer. The stereotypical "guest staying in the pool house" provides a convenient location for some activities that muddy the plot and/or provide tension. His wife Elizabeth seems self-centered and vacuous – I am not sure if that was what the author intended, or if she was written that way on purpose. I disliked her almost from the start and did not change my feelings when the book was finished.  However, I did end up disliking the rest of the characters towards the end, regardless of how the plot twisted. At that point, I was heartily sick of everyone's machinations and drama and self-servitude.
I would give the book four and a half stars, for while the plot was engaging there were a few draggy spots and as mentioned above, some characters faded in and out. This fading caused me to disengage a bit when they reappeared since I thought they were on the fringe, not actually moving the story along.
You can get your own copy here.