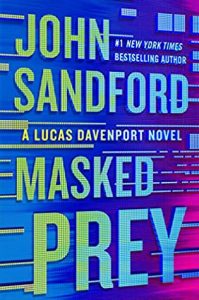 Lucas Davenport investigates a vitriolic blog that seems to be targeting the children of U.S. politicians in the latest thriller by #1 New York Times-bestselling author John Sandford.

The daughter of a U.S. Senator is monitoring her social media presence when she finds a picture of herself on a strange blog. And there are other pictures . . . of the children of other influential Washington politicians, walking or standing outside their schools, each identified by name. Surrounding the photos are texts of vicious political rants from a motley variety of radical groups.

It's obviously alarming–is there an unstable extremist tracking the loved ones of powerful politicians with deadly intent? But when the FBI is called in, there isn't much the feds can do. The anonymous photographer can't be pinned down to one location or IP address, and more importantly, at least to the paper-processing bureaucrats, no crime has actually been committed. With nowhere else to turn, influential Senators decide to call in someone who can operate outside the FBI's constraints: Lucas Davenport.
Thanks to NetGalley for this review copy!
Lots of politicking and Nazi alt-right groups in this Davenport outing. Lucas is still smarting from the bullet he took a few months ago, so when he gets a call from Washington demanding his presence, he is not all that eager to go. What he finds when he gets there is a twisted plot that takes nearly the entire book to resolve.
In the meantime, we have favorite characters Bob and Rae, lots of dialogue which moves the book along, and more information about alt-right groups that you never wanted to know. The book shifts back and forth between multiple subplots, which makes the book a bit draggy in places. Towards the end the action ramps up so that the pages are turning a lot quicker.
Bob and Rae are solid as usual, cracking wise and kicking ass. The scenes in which they help Davenport are some of the most entertaining ones in the book. However, it seems that Lucas was affected by the shooting in which he was wounded, and it shows. He is more thoughtful and less raw. He's not happy about dealing with the Washington crowd, but handles it with diplomatic aplomb. Is this the start of an older, wiser Lucas Davenport? According to Goodreads at the time of this writing, MASKED PREY was a solid 4 stars. I'm not sure why this book didn't get that fifth star, unless it was the "new" Lucas.
I enjoyed the book well enough, but I'm going to give it four stars as well. There was a bit too much politics. 20% into the book, when Davenport meets alt-right expert Charles Lang and his assistant Stephen Gibson, Lang reminded me a tiny bit of Hannibal Lecter, but without the shock factor and the gore. Lang seemed to thrive on information, and he was hungry for some all throughout the book. I found those interactions a bit creepy. Now that I think about it, both Lang and Gibson did need to be in the book under the guise of plot thickening, but I still don't like Lang.
Davenport fans should enjoy this albeit a bit mildly. Hardcore readers will gobble this up and look for more, while first time readers may find it a bit dry. I fall between those groups…that said there is nothing like a good Prey novel to while away the hours. MASKED PREY filled a few hours for me, and I enjoyed it more than mildly….yet not 5 stars worth.
You can pick up your copy here.