[easyazon_link identifier="0399579702″ locale="US" nw="y" tag="gimmethatbook-20″]Med School Uncensored: The Insider's Guide to Surviving Admissions, Exams, Residency, and Sleepless Nights in the Call Room[/easyazon_link]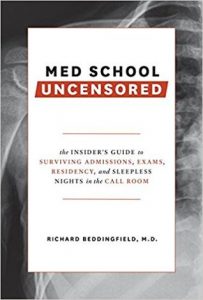 An entertaining insider's guide to the good, the bad, and the ugly of med school–with everything pre-med and med students need to know, from day one, to maximize opportunities and avoid mistakes.
Cardiothoracic anesthesiologist and recent med school grad Dr. Richard Beddingfield serves as an unofficial older brother for pre-med and incoming med students–dishing on all the stuff he would've wanted to know from the beginning in order to make the most of med school's opportunities, while staying sane through the gauntlets of applying to and succeeding at med school, residency, fellowship, and starting work as a new physician. With advice from additional recent Ivy League med school grads and top-tier hospital residents, this all-in-one guide is a must-have for everyone who dreams of becoming a doctor.
Many thanks to NetGalley for this ARC!
Richard Beddingfield is a kind and thoughtful man. Why do I say that? Because he spent a lot of time on creating a book to help pre-med students decide if that was the right career path for them. I can imagine graduates learning about this and saying "Why didn't I have this to guide me??".
MED SCHOOL UNCENSORED takes you from start to finish, explaining the tests, interviews, reasoning, and opportunities you will experience on the path to become a licensed doctor. He plays devil's advocate; which I found refreshing – if your grades here are lower than peer X, then you need to do better on this; if your grades still don't improve by this date, consider another career; no, there is no way to do this if you don't do that; etc.
Each chapter represents a different step on the journey, with examples, personal stories, and the "why" behind it all. There is even some history thrown in comparing how things were done in the past and how they have changed. This is the kind of book that every type of career needs, to help someone make a decision on what learning path they want to take. The author notes everything important with great detail, using easy to understand examples. Nothing is sugar coated here – there is honest discussion of the ups and downs, pitfalls and joys of becoming a doctor. Bedingfield's writing is clean and smooth, easy to digest, and generally benign.
There is not much of a plot to comment on in this review; but I will say I enjoyed the progression of the chapters. Things went from simple to complicated  in the order that they needed to; and it will be easy for the reader to grasp what comes next on the journey.
Anyone that is considering going to med school should pick this up before they finish high school, so as to obtain the proper education and extracurriculars needed to create an outstanding CV. This is exactly the book that should be in a parent's or guidance counselor's arsenal.
Want your own copy? You can pick it up [easyazon_link identifier="0399579702″ locale="US" nw="y" tag="gimmethatbook-20″]here[/easyazon_link].