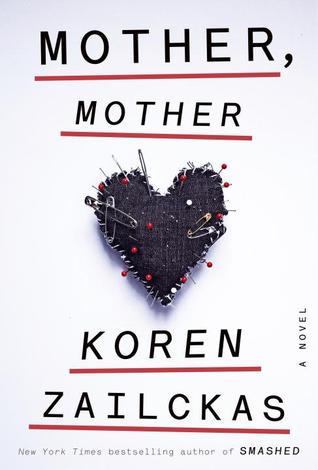 Wow. Double wow. Anyone who knows a narcissist will cringe and nod at matriarch Josephine's behavior, as she manipulates her way through her family's life. Who is crazy and who isn't? Nobody really knows.
Rose Hurst is missing. Violet and Will have been left behind to deal with the rage their mother, Josephine, has due to Rose's disappearance. Will loves his mother so much, and so is only mildly uncomfortable at her alternate turns of dotage and anger. Violet, on the other hand, wants to get far away from her family. One night, as she is high on "seeds", she commits a violent act against Will, causing Josephine to commit her to a mental hospital. Violet then tries to figure out what really happened that night, and tries to track her missing sister down as well.
The chapters are laid out such that the narration is done by Will and Violet, alternating chapters. Unfortunately, both narrators are unreliable and the reader gets to see different sides of the same story.
Josephine is a true narcissist, lying and stealing the spotlight away from everyone, even if it means turning family member against family member. With devoted son Will at her side, there isn't anything that she can't do. Even if she has to put a giant bowl of Death By Chocolate ice cream in front of Will to "help" him remember the night his sister attacked him.
"I need to make sure you can synthesize your thoughts about what happened. That woman who came by is going to make you explain it to her. If she can't keep up with you, or you can't explain your thoughts well, there could be big consequences," says Josephine. Will does his best, but still becomes teary eyed, and his mother admonishes him to "stop overreacting".
One of my friends has a narcissistic mother, and a weak father. As I read passages out loud to her, she shuddered and commented how true it all was. No one in her house was allowed to question things except her mother. Once I asked her why she never spoke up, and she told me it was just easier to let things go, so as not to upset her mother. She didn't want to "rock the boat", as it were.
A particularly interesting passage mirrors my friend's thoughts: Violet is trying to tell her dad that he needs to stand up to Josephine. He tells her "You and I are very different people. I don't see how rocking the boat is going to help matters much."
Violet replies, "It's not rocking the boat, Dad. It's called communication. You're allowed to ask questions. Other people do it all the time. Other people don't live in fear of someone else's reactions. They don't relentlessly stress out about getting into trouble."
Did I say WOW?? I loved this book, and I loved to hate Josephine. The plot goes along well, with enough mystery amongst the stress to keep you wondering where Rose is. The ending will shock you, and you will feel wrung out by all the manipulation, by everyone, to everyone. People like this really do exist, and it's scary. Kudos to Zailckas to creating authentic characters with real problems.
Stop reading this blog post immediately and go read this. It will leave you a changed person.
Want to read more about Mother, Mother? Go to the Random House website. Want your own copy? Of course you do. You can purchase it here. 
I received this book from Blogging for Books for this review.