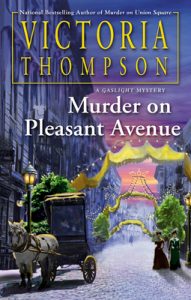 When Gino Donatelli is accused of a brutal murder, beloved sleuths Sarah and Frank Malloy have to catch a killer who is out to destroy their innocent friend's life in the latest installment of the national bestselling Gaslight mysteries.

A victim is found, brutally murdered and the police are certain they've caught the killer. Their only suspect: Gino Donatelli.

Frank and Sarah know Gino is innocent but the police have a one-track mind. Once Frank struck it rich and left their ranks taking Gino with him, there has been a simmering resentment in the department. And now, someone has pulled out all the stops to make it look like Gino is the only one who could have committed the crime.

With the clock ticking and evidence mounting against their friend, Sarah and Frank will try to unravel a treacherous plot before Gino is sent up the river for good.
Thanks to NetGalley for this ARC!
Once again Sarah and Frank get mixed up in a murder case; in this one Gino is accused of killing a member of the Black Hand and they must clear his name. We see a lot of Maeve in this story, especially in the interactions with Gino. I enjoyed reading their dialogue and loved to picture them flirting with each other. I also got a kick out of Maeve sitting forlornly at her typewriter, practicing her typing while wishing all the while for an interruption.
One thing you can always count on is getting some history while hearing of Sarah and Frank's adventures. The setting for this story is Italian Harlem, and the author paints a wonderful picture of how the inhabitants lived (and died). This is one of my favorite aspects of the Gaslight Mysteries: Thompson always makes me feel like I have been taken back in time and am living right alongside all her characters. One point of interest is that the author doesn't censor the seedier parts of the period. We get to see the homeless, we hear about abortions, and we get to experience tenement life. Thompson does her best to make nearly everyone sympathetic, so this makes the story friendlier, and the book very readable as well.
Speaking of characters, some new ones are introduced in this book. We meet Teo, Gino's sister-in-law, as well as the rest of Gino's family. One of the funnier sequences in the book is when Maeve needs to go to Gino's house; her family misunderstands her reason and want to get her out of the house. Thank goodness Maeve is able to straighten everyone out!
I was unable to figure out who dunnit, and that was a plus. It can get frustrating when you know who the bad guys are before the main characters do. My guess was between two characters, and I was surprised to finally learn who it was. As always, the story gets tied up neatly, with the last page a portent of what is to come in the next installment. I enjoyed this book very much and am looking forward to her next one. You can pick up your copy here.