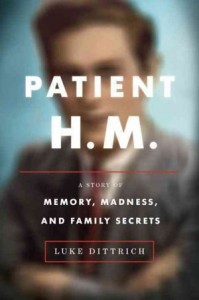 In 1953, a twenty-seven-year-old factory worker named Henry Molaison—who suffered from severe epilepsy—received a radical new version of the then-common lobotomy, targeting the most mysterious structures in the brain. The operation failed to eliminate Henry's seizures, but it did have an unintended effect: Henry was left profoundly amnesic, unable to create long-term memories. Over the next sixty years, Patient H.M., as Henry was known, became the most studied individual in the history of neuroscience, a human guinea pig who would teach us much of what we know about memory today.

Patient H.M. is, at times, a deeply personal journey. Dittrich's grandfather was the brilliant, morally complex surgeon who operated on Molaison—and thousands of other patients. The author's investigation into the dark roots of modern memory science ultimately forces him to confront unsettling secrets in his own family history, and to reveal the tragedy that fueled his grandfather's relentless experimentation—experimentation that would revolutionize our understanding of ourselves.

Dittrich uses the case of Patient H.M. as a starting point for a kaleidoscopic journey, one that moves from the first recorded brain surgeries in ancient Egypt to the cutting-edge laboratories of MIT. He takes readers inside the old asylums and operating theaters where psychosurgeons, as they called themselves, conducted their human experiments, and behind the scenes of a bitter custody battle over the ownership of the most important brain in the world.

Patient H.M. combines the best of biography, memoir, and science journalism to create a haunting, endlessly fascinating story, one that reveals the wondrous and devastating things that can happen when hubris, ambition, and human imperfection collide.
Many thanks to NetGalley for this ARC.
This book is more than a memoir; more than an expose of the lobotomy trade; more than a poignant tale of a man whose life was largely lived in the present moment. It's an unsettling view of a medical procedure touted as something to make willful women "compliant" and violent men "placid". The imagery of the procedure itself is even more eerie – the author describes the hippocampus as "being sucked up" by the vacuum used to perform the surgery. Implements such as a trephine drill, a scalpel, and forceps are used to obliterate parts of the brain responsible for making each of us human. Patients vomit or sing during the surgery, their brain sending out chaotic impulses. Afterwards, they are a shell of their former self, sometimes mute, dull, or forgetful.
Patient H.M.  was the most intensively studied lobotomy "victim", and his journey from epileptic to amnesiac is well chronicled here. Adding to the drama is that the grandfather of the author (Dr William Scofield) is the surgeon that operated on H.M.
There is backstabbing and intrigue within the medical community as well; one of H.M.'s fiercest protectors, neuroscientist Suzanne Corkin, may have destroyed much of her written notes on H.M., thereby casting a shadow over how much of her research was actually correct and reliable. It is mind boggling to learn about the amount of "experimentation" done on men and women, all in the name of advancing scientific knowledge. Consent at times was dubious, even after the Nuremberg Trials.  The doctors thought they were doing the best for these patients, but as the author puts it, their hubris and audacity changed lives not always for the better.
Towards the end of the book, there is a section on H.M.'s actual thoughts on himself and his memory. He tries to put a positive spin on things, noting that always living in the present makes things interesting. I suppose you can't miss what you never had; but I also was very deeply touched by the portrayal of this man who underwent a lobotomy because he was desperate to end his constant seizures. Was the quality of his life made better by suctioning out parts of his brain? That's the gist of PATIENT H.M. – there are uncomfortable questions and sometimes dubious answers that make sense at times, but in actuality heinous, unspeakable deeds were committed against innocent people.
The author does a wonderful job of forcing the reader to consider these broken people as tragic creatures, unknowing fodder (sometimes referred to as "material") for the surgeons who were all eager to try out this new and groundbreaking procedure.
Also broken are the main characters: the surgeon Scoville, the neuroscientist Corkin, and the brain researcher Jacopo Annese, who took possession of H.M.'s brain after the famous amnesiac died. After live streaming the dissection of the brain, there followed a volatile custody battle between Corkin and Annese over who was the "real" owner of the organ. Everyone wanted a piece of H.M. , either in life or death – and akin to Henrietta Lacks, he was never truly compensated for it.
I dare you to read this book and not be moved. PATIENT H.M. is educational, thrilling, and serves as a reminder of just how far medical science has come – and the depths it has gone to in order to reach this point.
You can pick up your copy [easyazon_link identifier="0812992733″ locale="US" nw="y" tag="gimmethatbook-20″]here[/easyazon_link].