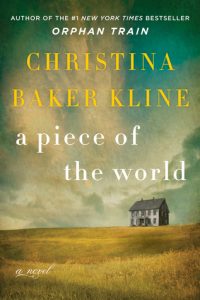 From the #1 New York Times bestselling author of the smash bestseller Orphan Train, a stunning and atmospheric novel of friendship, passion, and art, inspired by Andrew Wyeth's mysterious and iconic painting Christina's World.

"Later he told me that he'd been afraid to show me the painting. He thought I wouldn't like the way he portrayed me: dragging myself across the field, fingers clutching dirt, my legs twisted behind. The arid moonscape of wheatgrass and timothy. That dilapidated house in the distance, looming up like a secret that won't stay hidden."

To Christina Olson, the entire world was her family's remote farm in the small coastal town of Cushing, Maine. Born in the home her family had lived in for generations, and increasingly incapacitated by illness, Christina seemed destined for a small life. Instead, for more than twenty years, she was host and inspiration for the artist Andrew Wyeth, and became the subject of one of the best known American paintings of the twentieth century.
As she did in her beloved smash bestseller Orphan Train, Christina Baker Kline interweaves fact and fiction in a powerful novel that illuminates a little-known part of America's history. Bringing into focus the flesh-and-blood woman behind the portrait, she vividly imagines the life of a woman with a complicated relationship to her family and her past, and a special bond with one of our greatest modern artists.
Told in evocative and lucid prose, A Piece of the World is a story about the burdens and blessings of family history, and how artist and muse can come together to forge a new and timeless legacy.
I purchased this book on my own and so have no one to thank but myself 🙂
Who doesn't love this iconic Wyeth painting? When I was growing up I had a print on my bedroom wall. There was a terrible beauty in the stark juxtaposition of the girl and the house; even without knowing that she had an affliction, I just knew that there was something wrong with her. Regardless, I wanted Christina in my life. I wanted to be her friend.
After reading A PIECE OF THE WORLD, I have changed my mind. I would not want to have the author's Christina in my life. Despite the designation of "historical fiction", my soul has been crushed by the portrayal of Christina as a mean spirited, stubborn, cold individual. Many times I wanted to grab her fictional neck and wring it! There is a lot to be said for staying the course and holding true to yourself, but there is also holding yourself back and making bad decisions. I'd love to know what impelled Kline to create this version of Christina. I have to hand it to her – she took an icon and tarnished it well, without fear of repercussion.
Kline brings us into Christina's world bit by bit, making the years sadder and sadder, until we are numb. There are so many chances to make a change, and yet our heroine digs herself in stubbornly. In a way she is the sun around which various planets (Wyeth, her brother) revolve, and in other ways she is just a distant, minor, and fading star. Kline's writing style is illuminative and evocative. She can make us cringe, gasp, or cheer appropriately. The Maine farming mentality is well illustrated (no electricity!) and helps us understand Christina's reasons for living the way she does. The best thing about this book is that you will continue to wrestle with the characters for a while after you are done reading. What motivated Christina? Why did Al make the choice to stay with her? I wondered if I truly hated Christina or if I felt sorry for her after all she had been through. I also wished she had been written differently – but then the book wouldn't have made the impact that it did. This is the crowning moment of what it means to be a writer…having readers continue to discuss the plot and characters long after the book is done. Regardless of whether I liked the fictional Christina, I was impressed with the author's ability to stoke my emotions.
Whether you are a fan of Wyeth or just want to read some provoking historical fiction, grab this. You won't be sorry. You can pick up your copy [easyazon_link identifier="0062356267″ locale="US" nw="y" tag="gimmethatbook-20″]here[/easyazon_link].