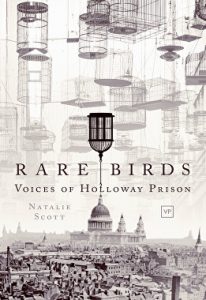 The ultimate lockdown reading, Rare Birds creatively tells the story of Holloway Prison's first 100 years through the re-imagined voices of prisoners, staff and others connected to its history. Meticulously researched, the collection brings to life well-known voices such as Ruth Ellis, Sylvia Pankhurst and Edith Thompson, plus a host of lesser-known names, to tell Holloway's rich and gripping story.
Thanks to the author for this review copy!
Prison walls seem to talk in RARE BIRDS, a book of poetry about those sentenced to time inside the notorious Holloway Prison. A multitude of characters share their laments with a chorus of voices. These voices come from suffragettes and thieves, pickpockets and murderers, and the author makes nearly all of them sound sympathetic. Some voices are particularly poignant, like the 10 year old pickpocket who marvels at being taught to write his name for the first time (pg.33), or the woman staring through the "hope-sized window" contemplating freedom (pg. 62).
Reading these poems about women fighting hard for the right to vote made me realize how far we have come, for this book brings to life their difficult journey. These voices deserved to be heard in their time, and Scott memorializes their struggle in an imaginative and touching way.
The author truly captures the essence of the prison and its inhabitants in her poems. It is as if she was intimately acquainted with each prisoner and gathered her poem from conversations with each one. Scott did comprehensive work with original documents (you can see which ones, along with a bibliography at the end of the book) to bring the inmates to life. Despite their criminal background (and it's true some are worse than others) they are all painted in a sympathetic light, as I mentioned before. It is easy to hope that freedom comes quickly for them – even the ones on Death Row. There is a section of poems (pp.124-133) that come from the voices of the executioner, his wife,  a prison officer, a juror, and finally the doomed prisoner herself, Ruth Ellis, who died by hanging on July 13th, 1955. Each voice is different, yet they all contribute to the bigger picture – a prisoner on Death Row who is about to hang. (Ellis was the last woman executed in the United Kingdom; you can read about her here.)
RARE BIRDS is just that – a book of ethereal yet grounded poetry that forces you to think about the prison system and those caught in it. Some are unjustly imprisoned, while others commit unspeakable acts. Whatever the crime, Holloway Prison enveloped its inhabitants in cold bricks and mortar. Scott uses her words here to uncage these birds and immortalize them forever.
You can pick up your copy here.