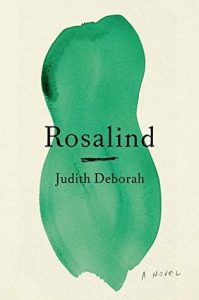 There's everyone else in the world. And then there is you.

World-class heart surgeon Dr. Peter Sutter runs his life with the instinctive precision of a master of the universe. But when he leaves the operating room, the only living thing waiting for him is a golden retriever. Then a chance encounter with an enigmatic woman changes everything.

Exploring the depths of Rosalind's intoxicating body and captivating spirit, Peter quickly falls under her spell. Miraculously, the feeling is mutual.  But fate is waiting just around the corner. And it might be carrying a lead pipe.

Rosalind is a sensual, witty, moving story about the joy of real love, the surprise and delight of unexpected passion, and the transcendent power of human connection.
Thanks to NetGalley and the author for this ARC!
ROSALIND is a short, sweet story about emotions and life. The relationship between the main characters is heady and absorbing without being overly saccharine. I enjoyed reading about Peter and Rosalind so much that the ending really shocked me and made me think what I would do if I were in that position. The way the author presented the twist made it so much more anguishing than if she had done a great deal of foreshadowing. The book is so short that there isn't much room for a lengthy buildup, but that is one of the more endearing qualities of ROSALIND.
The only fault I found with the book, necessary though it was to keep the plot captivating, was the fact that both Peter and Rosalind were two gorgeous, rich people with no care in the world. There were never any money issues, or instances of self-doubt (save in the beginning when Peter looks at himself with a critical eye as Rosalind goes off to the gym). The perfection was almost too perfect. However, perhaps that is what the author intended, to make the ending hit harder. If the characters had other struggles in their life, I may have thought the plot twist was par for the course. However, this could be a way of saying that despite money and looks, you never know what life is going to throw at you.
ROSALIND is a quick read with likeable characters and a thought-provoking ending. You can get your copy here.