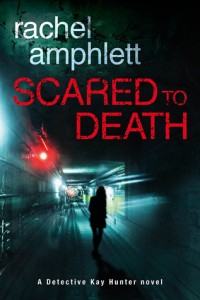 A serial killer murdering for kicks. A detective seeking revenge.
When the body of a snatched schoolgirl is found in an abandoned biosciences building, the case is first treated as a kidnapping gone wrong. But Detective Kay Hunter isn't convinced, especially when a man is found dead with the ransom money still in his possession. When a second schoolgirl is taken, Kay's worst fears are realised.
With her career in jeopardy and desperate to conceal a disturbing secret, Kay's hunt for the killer becomes a race against time before he claims another life. For the killer, the game has only just begun…
Scared to Death is a gripping fast paced crime thriller from author Rachel Amphlett, in a new series introducing Kay Hunter – a detective with a hidden past and an uncertain future…
Thanks to the author for gifting me this book in exchange for an honest review!
I loved this book! Chapter one was crazy intense, with plenty of action to set the tone of the story. Kay Hunter is a determined, capable woman with some job conflict in her past. The kidnapper is a sociopath on a mission, full of devious ways to murder his victims.
Amphlett knows how to grab the reader's attention by using strong character development and by keeping the plot moving. There are never too many people clogging up the pages; I really struggle with books that require a scorecard to keep track of characters. I also love that she believes in a strong female lead. Hunter knows what she wants and she trusts her intuition, no matter how much others may think it incorrect.
Setting the crimes in an abandoned building warmed my heart.  What creepier place could you find to make a victim consider her own death? I'm an urban explorer and could visualize the locations easily. What an excellent idea to use these places as a focus point for drama!
SCARED TO DEATH is a win on so many levels; I truly have nothing bad to say about this book. This is the type of story that you sit down to read and suddenly regret not having cleared your calendar prior to starting. The plots twists keep you guessing; even when the real kidnapper is identified, it's never a guarantee that he will be captured.
Equal parts of suspense, humor, drama and action make this book one of the best ones I've read this year so far. The ending leaves the door wide open for the next book in the series to be awaited eagerly – I, for one, can't wait to see what happens. I also have a theory about who caused the gun to go missing in her previous case – but I'll keep that to myself and see what happens.
You definitely need to get your own copy – you can pick it up [easyazon_link identifier="099443376X" locale="US" nw="y" tag="gimmethatbook-20″]here[/easyazon_link].