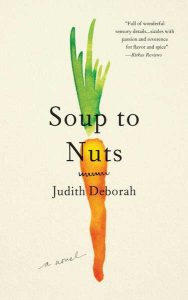 What do you do when your best friend marries someone who isn't you?

Romy Belkin—28, unrepentant English major, a Michelangelo in the kitchen—is the culinary genius behind viral YouTube channel A Dash of Paprika. Its star is the fabulous Pia Zimble, Romy's dearest friend. But one day, a fan of the show materializes—a man Romy has to admit is perfect for Pia—and sweeps her friend out of their kitchen and into a whole new life.

Bereft but trying not to be, Romy throws herself into navigating her new landscape. But the stakes of her explorations are higher than she thinks. If she's not careful, Romy could lose herself along the way—as well as the chance to love and be loved by a soulmate of her own.

A witty and warm-hearted comic love story, Soup to Nuts is a novel about deep and enduring friendship, love in its many varieties, and truly spectacular food.
Thanks to the author for this review copy!
SOUP TO NUTS is a sweet romantic comedy about Pia and Romy, two besties who work on a food blog together, happily ever after clearly in sight…. until Pia finds the love of her life. Romy needs to learn to live her life without being joined at the hip with Pia.
Told in Romy's voice, SOUP TO NUTS takes us through Romy's journey post-Pia. At first, she is in a type of mourning, as she misses Pia and also laments her own lack of male prospects. A friend of hers helps Romy find some blind dates that are fun, but short-lived. No one is clicking for her, and she keeps looking, even though there already is someone in her life that would be perfect for her. Will Romy realize this in time and open her heart, before he finds someone else?
The author hits the perfect blend of romantic and comedy – not too heavy on either side, which is perfect for me. Both Pia and Romy are developed well, and I was able to feel their emotions clearly, whether it was raucous girl fun or a quick flare of anger. The descriptions of Romy's relatives, especially her mother, are to die for. The author creates the perfect Jewish mother with both love and laughter.
"What on earth are you doing with that silly man?" Ma asked. 
"You mean Chip?" said Romy.
"Chip," Ma said scornfully. "Chip Scott. Never trust a man with two first names."
"You're prejudiced. If his name was Chip Rabinowitz, you'd be calling the caterers."
At times the dialogue is laugh-out-loud funny, other times it turns poignant. I truly felt as if I knew the girls well, and thus became invested in their future. Romy is a cook, and so the book is filled with descriptions of food, sumptuous and hunger-inducing. She turns to her kitchen in times of need, so there is a lot of cooking after Pia gets married and moves out. Her recipes are therapeutic, and we get to experience them one ingredient at a time. The author is skilled at creating images while stimulating the senses, and this is part of what makes SOUP TO NUTS so enthralling. There is so much delight in this little book that you must experience it for yourself. You will fall in love with these characters during the short period you are with them. Hurry – you can pick up your copy here.